Celebrating Ambassadors and Teacher Colleagues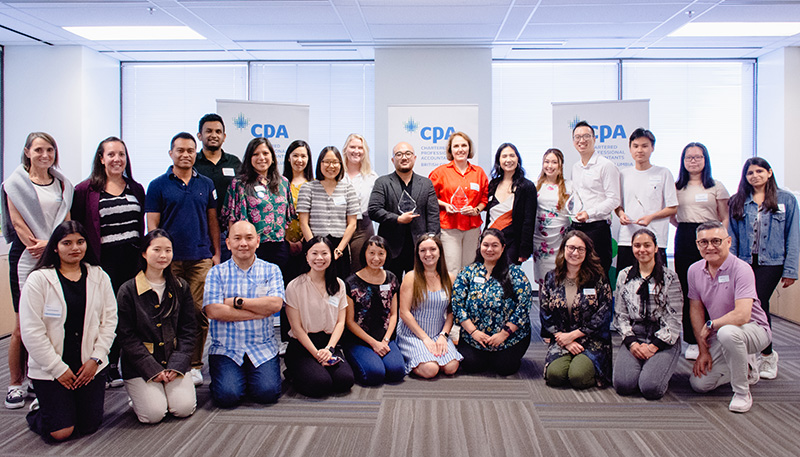 Every summer, CPABC hosts its Ambassador Appreciation Event to thank volunteers for dedicating their time and energy to the profession through the CPABC Ambassador Program. In 2023, the event was expanded to also recognize volunteers in the CPABC Teacher Colleague Program.
The 2023 event was spread over two days in June and presented in both virtual and in-person formats. At the virtual event, attendees played travel-themed games on Zoom and received tokens of appreciation. At the in-person event, attendees had the opportunity to experience FlyOver Canada's "Windborne: Call of the Canadian Rockies" show at Canada Place and then connect with peers during a networking reception.
After thanking all of the ambassadors and teacher colleague volunteers for their contributions, Sharon Hummel, CPABC's student recruitment manager, invited members of CPABC's student recruitment team to present the annual "Ambassador of the Year" awards, which recognize the high school, campus, and member/candidate ambassadors who were most active in CPABC's recruitment activities during the school year. A new category was added in 2023 to recognize the outstanding Teacher Colleague of the Year. The award recipients are:
High-School Ambassador of the Year: Bao "Danny" Nguyen, high-school student;
Campus Ambassador of the Year: Luke Shen, post-secondary student;
Member Ambassador of the Year: Zahra Carol Baghdadi, CPA; and
Teacher Colleague of the Year (new): Andrew Leong, high school teacher.
Celebrating Ambassadors and Teacher Colleagues
Celebrating Ambassadors and Teacher Colleagues