Conversation with a CPA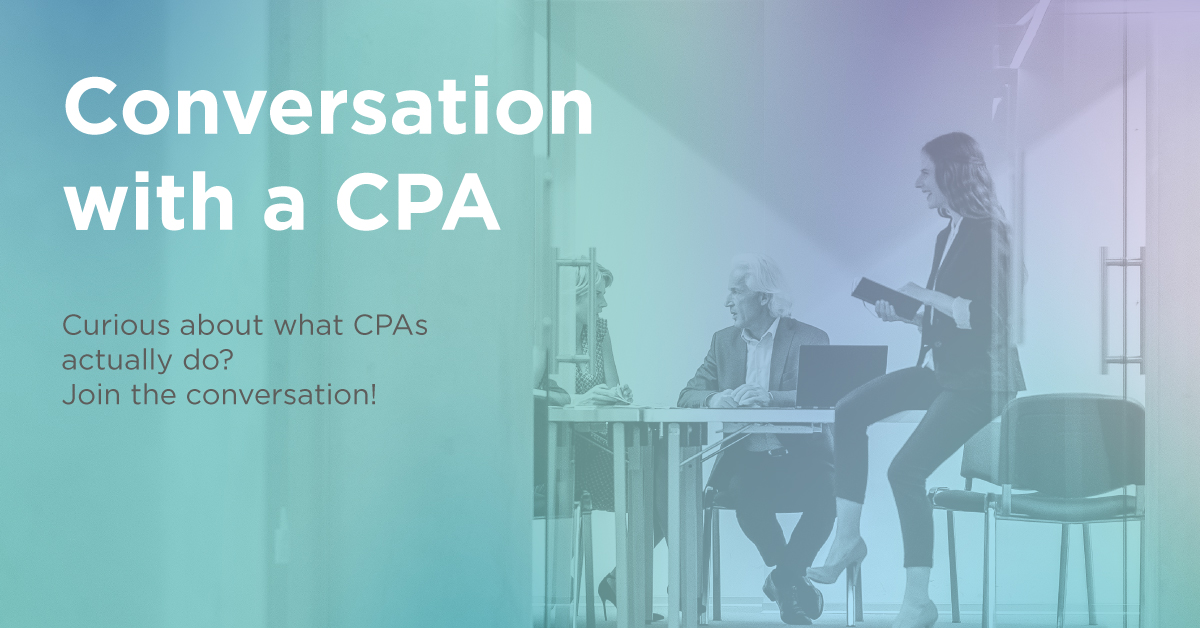 CPABC's Student Recruitment team hosted a series of short 30-45 minute webinars featuring some of our CPA members from different sectors of the accounting field. Each speaker shared their CPA journey and answered questions from the audience about a career in accounting.
Click links below to watch the webinar recordings.
November 30, 2022 (Q&A portion not included) - Vishal Hiralal, CPA, CA, Owner, Cinephile Accounting
October 27, 2022 (Q&A portion not included) - Earl Reyes, CPA, CMA, Director of Business Enablement, JUDI.AI
September 22, 2022 (Q&A portion not included) - Reena Bienko, CPA, CA, Manager, Corporate Accounting and FP&A, Kriska Transportation Group
August 30, 2022 - Selena Woo, CFP, CPA, CMA, Vice President, Advisory Services – Associates & Operations, Nicola Wealth
July 27, 2022 - Zahra Baghdadi, CPA, CGA, Financial Controller, RTB LLP & Founder, Crunch TimeZ Virtual CFO Services
June 29, 2022 - George Fisher, MBA, CPA, CGA, Instructor of Accounting, Douglas College; Textbook Author
May 25, 2022 - Robert Bullock, CPA, CGA, Chief Executive Officer, Saa'men Economic Development & Owner, FirstNationsPartners.net
April 26, 2022 - Shelagh Rinald, FCPA, FCA, CFP, TEP, President, Rinald Tax Advisory Inc.
March 29, 2022 - June Lee, CPA, CMA, Committee Review Officer, BC Public Service
February 28, 2022 - Robert An, CPA, CGA, FCCA (UK), CFP, CLU, Wealth Strategist, CIBC Private Wealth
January 25, 2022 - Gail Thiessen, CPA, CMA, Finance Manager, Evangelical Missionary Church of Canada
November 24, 2021 - Janeen Sam, CPA, CA, Co-Founder, SamKabwe Consulting
October 27, 2021 - Tommy Kwok, MBA, CPA, CGA, Senior Strategy Manager, Marketing, Strategy & Data Insights, TELUS
September 30, 2021 - Christine Woodington, CPA, CGA, Corporate Accountant, Coal Island Ltd.
August 31, 2021 - Joyce Fung, CPA, CA, Senior Financial Analyst, British Columbia Lottery Corporation (BCLC)
July 28, 2021 - Jeffery Chapman, CPA, CMA, Partner, Family Business & Wealth Advisor, Covenant Family Wealth Advisor
June 28, 2021 - Bridgit Grundling, CPA, Senior Accountant, Inventory Accounting, lululemon athletica
May 26, 2021 - Kathryn Sensel, CPA, CMA, Associate Director of Finance, Animal Care Services, University of British Columbia
April 29, 2021 - Jayson Columbus, CPA, CMA, Vice President, Finance & Administration, Northam Beverages
March 30, 2021 - Robin Wong, CPA, CA, Financial & Reporting Analyst, Chartered Professional Accountants of British Columbia
Feb. 23, 2021 - Amanda Collinge, CPA, CGA, Senior Manager, Operations Performance and Rapid Response Team | Western Co-Chair, National Inclusion Council, Raymond James Ltd.
Jan. 19, 2021 - Albert Law, CPA, CA, Director, Fiscal Planning, Treasury Board Staff, Ministry of Finance
Nov. 19, 2020 - Maneisha Sandhu, CPA, Tax Manager, PwC
Oct. 22, 2020 - Tsveta Anagnostos, CPA, CA, Virtual CFO, Frontier CFO Services Inc.
Conversation with a CPA
Conversation with a CPA