The Value of CPA

In May 2023, CPABC launched a new bi-monthly event series: The Value of CPA. This series focuses on value-related topics such as finding a career that matches with your core value, how is the CPA designation recognized and valued on a global scale, the importance of value-goal setting, and more. In each event, either virtually or in person, our featured CPA panelists will be sharing their thoughts and experiences on the respective topic.
Click links below to watch recordings of past events.
The Value of CPA – SMART Goal Setting (In-Person Event)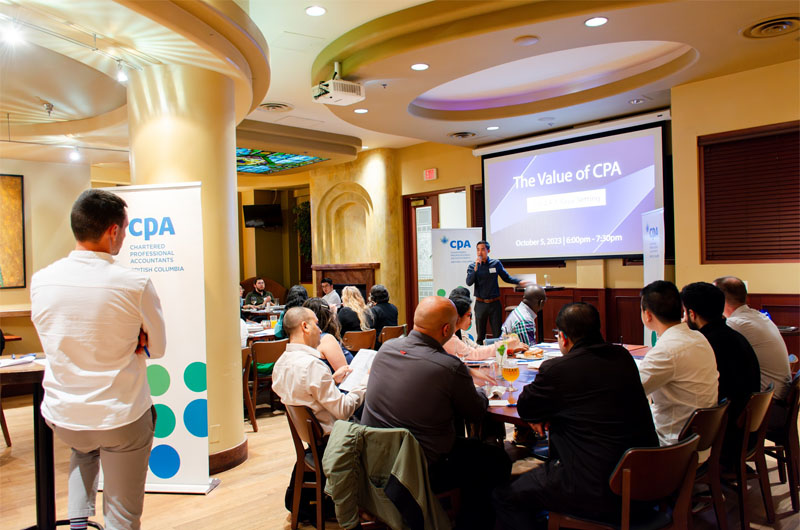 On October 5th 2023, CPABC hosted the first in-person "The Value of CPA – SMART Goal Setting Workshop & Networking event" at the Steamworks in Gastown. The event was tailored for aspiring CPAs and drew a diverse crowd, including newcomers, post-secondary students, working professionals, and a couple of CPABC ambassadors from the field, the presence of ambassadors added a special touch, allowing newcomers and students to gain valuable insights into what it takes to succeed in the industry. Casey Cheung, CPA, ACC, presented the workshop which guided attendees of the intricacies of SMART Goal setting in the context of a CPA career. This event offered attendees the opportunity to skill-build as well as connect with other like-minded students, professionals, and CPAs.
Key Takeaways
SMART Goal-Setting Skills: Participants left with a clear understanding of how to create specific, achievable, and time-bound goals that will benefit their career aspirations in accounting/finance.
Networking Skills: Improved ability to build and maintain professional relationships within the CPA community.
Career Advancement: Insights into how SMART goal setting can contribute to career growth and development within the accounting and finance industry.
Awareness of CPA Benefits: A better understanding of the resources and opportunities available to CPAs, enhancing their professional journey.
The Value of CPA
The Value of CPA