Archive 2017 Annual General Meeting
Notice of Annual General Meeting
The 1st Annual General Meeting (AGM) of the Chartered Professional Accountants of Yukon will take place at Coast High Country Inn, 4051 – 4th Avenue, Whitehorse, Yukon
Thursday, June 22, 2017 at 4:00 p.m.
AGENDA
The Membership
Chair's Report
Appointment of Auditors – 2017/2018
Board of Directors Election 2017 through 2019 
Other Business
Adjournment
---
Meeting Material on Website
Meeting materials will be available on the Organization's website on or before May 31, 2017.
If you do not have access to the Internet, you may request that a meeting package be mailed to you by contacting the Organization office at 604-872-7222 or 1-800-663-2677 (toll free in BC).
---
Attendance Record
Voting procedures require that an accurate nominal roll be taken of all members in attendance at the AGM. Members attending the meeting will be required to present a properly completed "attendance record card" before being admitted to the meeting. Attendance record cards will be available at the entrance to the meeting room.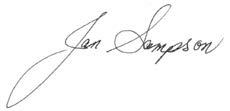 Jan Sampson
Secretary
May 2, 2017