Matthew Sousa, CPA, CA
Manager, Manning Elliott LLP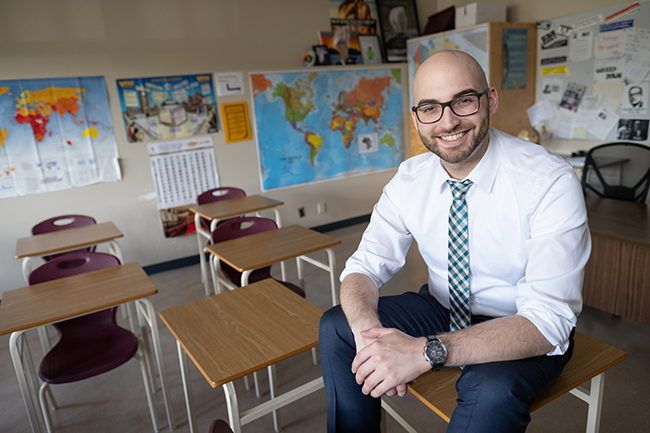 Matthew achieved his goal in 2015 and now works as a manager at Manning Elliott LLP in Surrey, where he advises clients in a wide range of industries. He also gives back to the community by teaching financial literacy—a passion that ignited shortly after he became a CPA.
"The prestige and value the designation holds in the business world is something I learned about in high school, thanks to one of my teachers," says Matthew Sousa. "These qualities definitely resonated with me and fueled my desire to become a CPA."
In addition to volunteering with CPA Canada's Financial Literacy Program, teaching basic financial concepts to local community groups, Matthew mentors high school students through his involvement with the Martin Family Initiative (MFI) Accounting Mentorship Program, a program co-sponsored by the Martin Family Initiative and CPA Canada.1
CPABC caught up with Matthew to discuss his commitment to both programs and his passion for helping others become more financially savvy.

What drew your interest to CPA Canada's Financial Literacy Program?
I was motivated by seeing firsthand the deficiencies or misunderstandings people have when it comes to financial literacy. I believe that providing people with a basic knowledge and awareness of these matters can have a significant positive impact on their lives and on the community overall.

As a volunteer, what do you like most about the program?
I appreciate the variety of the program. It gives me flexibility in terms of the subjects I teach and the audiences I teach them to—from basic savings concepts for elementary school students to more complicated matters for established business owners.

What's your favourite part about speaking to community groups about financial literacy?
Seeing the spark in someone light up when they begin to understand or become interested in a topic. You can feel a dynamic shift in their desire to learn more and how to best apply these topics in their personal lives.

How did you get involved with the Martin Family Initiative (MFI) Accounting Mentorship Program?
Jennifer Phipps, CPA, CA, a partner at Manning Elliott and someone I work closely with, brought the program to my attention. The MFI was looking to expand the national program, in partnership with CPABC, with a pilot roll-out at North Delta Secondary School.
This seemed like an excellent opportunity to be at the forefront of providing valuable financial literacy and mentorship to students. High school students have great ideas and know what's important to them. My role is as a mentor is to help guide them and provide the tools they need to succeed on their chosen paths.

Why do you think it's important to teach financial literacy at the high school level?
It's never too early to start learning financial literacy because it's something that will have an impact on a person for their entire life. It's even more important at the high school level because students will soon be faced with major financial obstacles and decisions as they become young adults. They will soon be in the workforce, if they aren't already, and may be attending university or college. Making some smart decisions early on can help them better mitigate potential issues in their adult years and set them up for success.

What is the most rewarding part of being a mentor to these students?
Again, it's seeing that spark come alive. Students have a great desire to better themselves and the communities they live in. I believe, if properly inspired, they will achieve great things and pay it forward to the next generation.

Is it fair to say that you enjoy public speaking? Or is it a skill you've had to work at?
Both, as a matter of fact. Topics I'm passionate about always motivate me to want to speak, but doing so in a public setting did not come naturally to me. While attending Kwantlen Polytechnic University, I was treasurer of the university's Toastmasters chapter and regularly participated in their events, so I attribute a lot of my public speaking skills to that.

What advice do you have for CPAs who are thinking about volunteering through the profession?
I'd recommend they look at the variety of volunteering opportunities that exist and explore the ones they deem to be a suitable fit. It's also worthwhile to reach out to the program heads and existing volunteers to learn from their experiences and what the volunteering options actually entail. Volunteering through CPABC and CPA Canada is a rewarding way to give back to the profession and the community.
 
A shorter version of this Q&A appeared in the May/June 2019 issue of CPABC in Focus.

1 The goal of the MFI Accounting Mentorship Program is to support Indigenous students through their high school years by promoting the benefits of post-secondary education and introducing them to different business environments and potential job opportunities.