Justin Lee, CPA
Sole Practitioner, Justin Lee, CPA
Co-founder, Young Guys Finance
Profile by Megan Hooge & Michelle McRae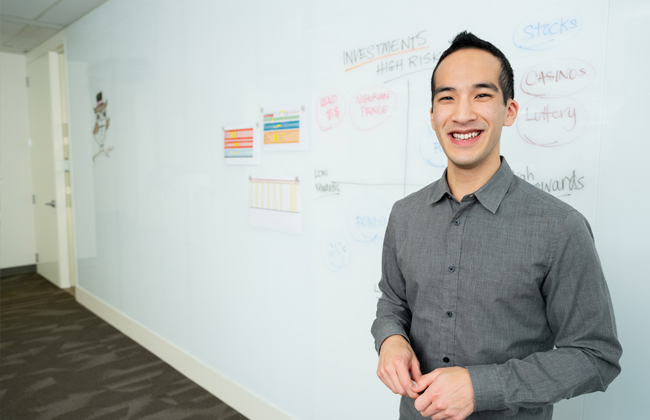 Photo: Kent Kallberg Studios
Justin Lee is a public practitioner with a passion for financial literacy, technology, and media. While studying accounting at Simon Fraser University, he co-founded an entertainment and lifestyle blog with two fellow students that soon blossomed into a multimedia production company with a team of 20 (AX3 Multimedia). The trio of young entrepreneurs wound the company down in 2014 to focus on their respective careers, but the hiatus was short-lived—in 2015, Justin teamed up with one of his AX3 co-founders and another friend to launch Young Guys Finance (YGF), a website that features engaging, easy-to-follow videos designed to make personal finance education fun.
YGF continues to expand its suite of free financial literacy resources and its audience. In early 2018, Justin and his team partnered with CPABC's "RRSP and Tax Tips" campaign to create new videos, as well as personal finance articles for IndustryUpdate.ca.
Justin also made a major career change in early 2018, starting his own public practice firm, where he uses his own expertise both in public practice and as an Internet entrepreneur to help other Internet entrepreneurs navigate the accounting side of their industry. His clients also include cryptocurrency traders.
Justin sat down with CPABC to talk about his new clientele, trends in future commerce, and YGF. And since November is Canada's National Financial Literacy Month, he also shared a few personal finance tips.
What is it about working with clients in technology that you find most interesting/rewarding as a public practitioner?
I grew up around computers, and I've always been fascinated with technology. Working with these clients allows me to put my professional expertise to use in an industry I'm passionate about.
You worked in public practice with MNP for five years before branching out on your own. What made you decide to start your own firm?
Outside of my work in public practice, I was able to build a lot of connections with Internet entrepreneurs that were doing well, but who really had no foundation in accounting, finance, or tax. Talking to them and realizing that they had the same accounting and tax questions and opportunities as the clients I was working with at MNP inspired me to carve my own niche and open my own firm.
Do you think it's important that practitioners stay current with technological trends? Are there any trends you think accountants need to pay attention to right now?
As CPAs, we always need to have a grasp of emerging technologies or trends, because there are accounting and tax implications to everything that goes on. Being at the forefront of this change allows us to pave the way for our clients and the industries themselves.
One of the biggest trends right now is blockchain, as 2018 saw more companies recognizing and adopting blockchain platforms. I think accountants should at least be familiar with the technology and have a general understanding of how decentralization works.
Switching to your other company, what motivated you to start Young Guys Finance and become a YouTube host?
I was fortunate to have learned the basics of personal finance from my parents. They taught me how to save, how banks make money, and how to invest my money. As I got older, I realized that a lot of my friends and peers were lost when it came to personal finance. As we shared our own experiences, we noticed that there really weren't any resources tailored to young Canadians. That was when the three of us saw the opportunity to create something that could benefit people like us—those who understood the importance of financial literacy and were eager to learn—while helping our generation as a whole.
We all started geeking out about personal finance—debating about the best credit card and the ideal investment portfolio. We started to experiment with budgeting, money management apps, and investing. We also asked our peers what they knew about personal finance, and the common answer was that they had no idea what they were doing. This was the birth of Young Guys Finance.
Who's your target audience?
We took a lot of time to carve out our target audience. While our content is essentially deliverable to all Canadians, that's too broad of a target market. In our research, we found that students are too focused on passing exams and surviving university to care too much about their financial future. So in the end, we decided to focus on young Canadians—specifically, those who are just starting their first jobs out of university. Because we were in that target market during the creation, it allowed us to create content that was educational and entertaining at the same time.
What do you want them to take away from your videos?
While our key teaching goal is to give our audience a better understanding of personal finance, we emphasize the following three strategies:
Put the work in up front to automate your finances so that you don't become overwhelmed (which is when emotions can take over).
Be persistent and stick to your investment plan. Don't chase the highs and lows of the stock market.
Identify areas of your life that you're okay splurging on, such as expensive clothing or fancy meals. Frugality is only one aspect of personal finance.
Why use video to communicate your expertise as opposed to, say, print?
YGF started out as a book. We were planning to publish it online and in print, but we saw that there were a lot of books and print resources out there already. And once we determined our target market, we realized we stood a better chance of reaching our generation through YouTube videos. We knew young Canadians didn't want to read through thousands of pages to learn about investing.
We also knew that they weren't excited to learn about compound interest charts and didn't want to hear an older person in a suit tell them to stop buying coffee every day. So, we decided it was our time to disrupt the personal finance industry, and we experimented with educational videos. We shared some test videos with a small segment of friends and peers in 2015, and then we refined those videos to what you see today on our channel.
What do you enjoy most about being part of YGF?
Being a part of YGF has opened my eyes to the power of YouTube and the opportunities out there. Being able to reach so many people with a message we're so passionate about is very eye-opening. I look forward to seeing what other platforms and methods we can come up with to further educate Canadians about personal finance.
November is National Financial Literacy Month in Canada. Why is it important to you to help Canadians improve their financial literacy?
Financial literacy is very important because as much as we hate to admit it, money controls our lives. In addition, it can also be very hard to find professional help that's on your side. Canadians know that a lot of financial institutions have sales targets, and that can lead to mistrust. People think they have to figure out money on their own, and without the proper guidance, things can go south really quickly.
If there's one thing you hope people take away from your financial literacy work, what is it?
We want to help Canadians take control of their money, because we know it will make them more empowered, happier, and more confident in other aspects of their lives. I hope to show people how simple decisions and setting up a system can work ten-fold.
What would people be surprised to learn about you?
In my personal life, I enjoy photography and DJing. I also have more pairs of sneakers than I should!