J.P. Fowler, CPA, CA
CFO, Stewart Family Estates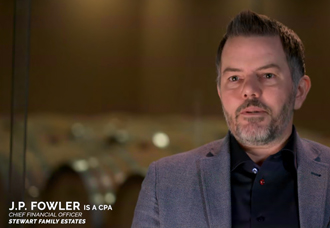 One CPA's journey from the pristine beaches of Bermuda to B.C.'s picturesque wine country
When most people think of a Chartered Professional Accountant (CPA), they probably don't imagine someone travelling across the world, working for some of the biggest, most passionate companies on the planet. But that's exactly what happened to J.P. Fowler, a CPA. Now CFO of Stewart Family Estates – which consists of wineries like Quails' Gate, Valley of the Moon and Lake Sonoma – he's gone from the pristine beaches of Bermuda to the picturesque Okanagan in southern British Columbia. "I found out that the world headquarters for Bacardi was there in Bermuda, and I joked that I just wanted to get a business card with my name on it and Bacardi in the background," says Fowler.
Risk vs. Reward
Prior to working for Bacardi and Stewart Family Estates, Fowler received his Bachelor of Commerce and Master of Accounting from the University of Manitoba and shortly after got his CPA while articling with Deloitte.
"My family's passion is actually aviation," says Fowler. However, his father told him to go get his education first. But after eight years of school, any dreams of working in aviation had faded, and Fowler discovered his new-found passion in business and finance. From the get-go, working for Bacardi "was a match made in heaven," says Fowler; the wine and spirits industry has great margins, dynamic products and passionate people, a good combination for a young person fresh out of the CPA program. Bacardi also gave him lots of freedom, essentially letting Fowler dictate his future with the company. Looking back, Fowler says Bacardi was telling him: "Here's the rope; you can tie yourself a noose or you can tie yourself a bow." Fowler tied a bow.
For 17 years, Fowler worked all over the world. Once you get your CPA, you have to analyze things in a risk-versus-reward scenario, says Fowler.
"With my CPA designation and experience, I was able to take my career as far as I wanted, but in the end, it depends on the person: how far do they want to go?"
After almost two decades abroad, it was time for Fowler to come back to Canada. He quickly settled on British Columbia's wine country – the Okanagan.  Fowler is involved in every aspect of the business, from planning, budgeting and tax to investing. In short, Fowler is involved in all things finance. "You are really the right-hand financial person for a business – the fiscal conscience."
Since Fowler joined Stewart Family Estates, the company has grown exponentially. Three years ago it acquired 200 acres, and since then it has planted 80 acres of grapes and plans to plant another 80 over the next two years. It is also developing another winery and another wine brand, which will complement its existing business in the Okanagan and Sonoma. Fowler is excited to play a key role in the continued growth of the company.
Forward Thinking
Fowler says, "What I bring to my company is the ability to be forward-looking while not losing sight of the current business."
He adds that his international experience really allowed him to develop his business acumen, and to this day he keeps continuing to evolve and hone his business skills.
"The attention to detail that a CPA picks up because of the training makes them invaluable, and other people quickly latch onto that," explains Fowler. He also says that some of the stereotypes people associate with CPAs are actually what makes them great.
"Our attention to detail, breadth of knowledge and the fact that we are not afraid to roll up our sleeves make us far from boring. There was nothing boring about working on an island with some of the most pristine beaches in the world."
Many CPAs' strongest attributes are their perseverance, work ethic and understanding that you need to work as a team. They also understand what makes products sell and how businesses work. But most importantly, they never stop evolving. "We are continually growing and learning, which makes us relevant to businesses and prospective employers."
Ultimately, Fowler says, you've got to take risks to reap the benefits of success, and the success he's garnered over the years, he attributes in part to getting his CPA.
"I never envisioned, being a guy from the Prairies, that I'd be living on a tiny island in the North Atlantic, doing business right outside of Red Square in Moscow, attending backstage events with the Black Eyed Peas as a sponsor or coming back to the Okanagan to help lead a growing wine business."
---
Originally published on Business in Vancouver.