Brad Pennefather, CPA, CMA
VP Membership & Business Intelligence, Canucks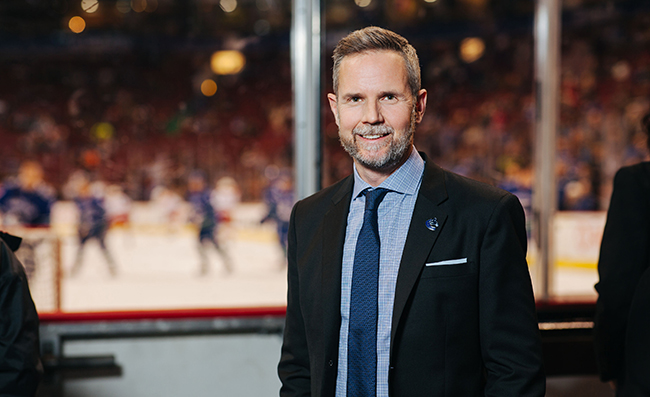 Photo: Bobo Zhao Photography
How This CPA is Helping Build the Ultimate Fan Experience for the Canucks
Brad Pennefather says he gets a lot of questions when he shows people his business card. "Oh, you're a CPA?
You're working in Membership and Business Intelligence with the Canucks? That's pretty different and cool!"
Brad says those types of interactions happen often - people are surprised to learn that a Chartered Professional Accountant (CPA) works for a professional sports team like the Vancouver Canucks in such a unique position.
In fact, Brad has one of the most important jobs on the business side of the Canucks - he's responsible for premium members, season ticket members, and business analytics. The most important aspect of Brad's job is to ensure fans have an excellent experience as a member of Canucks Sports and Entertainment.
"As an organization, we want our fans to come into Rogers Arena and have a great time regardless of the score, whether it be from a food and beverage standpoint, game entertainment or engagement with our staff."
Choosing the CPA
Brad did a Bachelor of Commerce at the University of Victoria but didn't become a CPA right away. Instead, he went to work for a multitude of different companies including Coca-Cola, Anheuser-Busch InBev and BCAA.
It was when he left AB InBev that Brad realized he needed to expand his business horizons through education.
"I looked at the MBA and I thought an MBA is similar to a Bachelor of Commerce. I don't think it's going to do anything for me and at the time I said I want to get out of my comfort zone—I want to grow and learn."
Brad says the entire experience of becoming a CPA was a little surreal. "I was a little bit of a fish out of the water." People who were in the program had functional experience in finance, but what Brad lacked in technical financial experience, he made up for with his diverse skills from marketing, sales and analytics. "One advantage that I have as a leader, is that I have the financial accounting background from the CPA. I have the sales and marketing experience from AB InBev, operations experience from the BCAA, and analytics from Coca-Cola."
Ultimately, becoming a CPA rounded out Brad's skills and helped him grow as a leader. It also gave him a better understanding of how businesses actually conduct themselves financially. "I learned a lot more about the financial areas of a business which helped me to be even more diverse."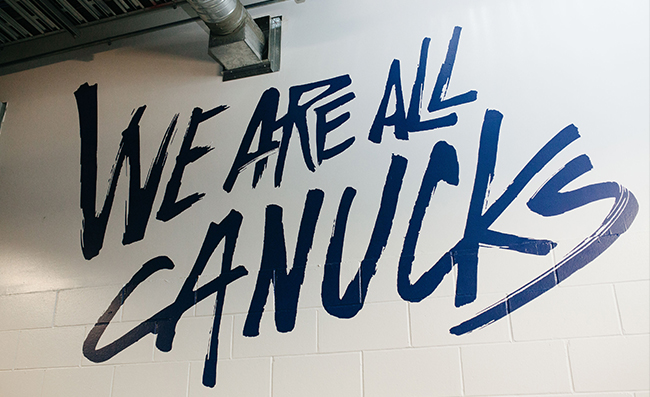 Photo: Bobo Zhao Photography
Generalist vs. Specialist
In 2014, the Canucks asked Brad to come on board as Senior Director of Corporate Partnerships and Marketing Operations.
"They were not looking for a sales leader, they were looking for someone with a more rounded experience."
Brad moved to VP of Membership and Business Intelligence for the Canucks in 2018. He says that one thing that really makes him stand out is that he's actually more of a generalist than a specialist.
"Having that generalist background, I can play a lot of different positions in our organization which is something that I love."
It has opened the opportunities for collaboration with different departments within the Canucks which ensures he works with people from all levels of the organization.
One of Brad's proudest moments was helping to facilitate the strategic plan on the business side of the Canucks organization that looked at drivers for defining success with a balanced scorecard.
In essence, he helped to create a strategic plan for the organization that focused on fan metrics that deliver the company's long-term profitability goals. The plan clearly articulates the Canucks Sports and Entertainment's purpose and how it will be achieved. It has resulted in all employees understanding the company's direction and goals.
When asked about his experience at the Canucks, Brad states, "I am very grateful to be working in such an exciting, dynamic organization with amazing people.
It is the people in Canucks and Sports and Entertainment that make it such a special place. I look back to when I started discussing the opportunity and my CPA education definitely helped me get here and it helped deliver my accomplishments."
"I tell everyone the CPA program is one of the best educational experiences I have ever had. I went completely out of my comfort zone which has made me a stronger leader in the end."
---
As published in Business in Vancouver.