CPABC Career Week
Date: September 5-11, 2023
Location: Vancouver Convention Centre, Coast Capri Hotel Kelowna, and Online on Hopin (Ring Central).
CPABC Career Week is an all-in-one hybrid recruitment event featuring career workshops, employer panels, and numerous networking opportunities with hiring managers, HR professionals, and recruitment experts.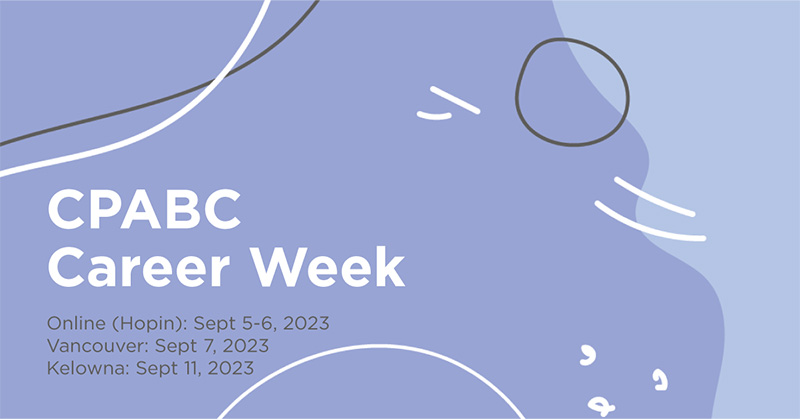 From September 5–11, 2023, over 600 participants and 49 organizations participated to network and engage with their peers on important career topics. Here's a recap of how the week unfolded.
Event Program
Career Panels
CPA business leaders showcased their unique workplaces, diverse career opportunities, and advice for the next generation of the workforce. More than 300 CPA members, candidates, and prospective students attended the event to gain insights from CPABC's career panels and make more informed decisions about their own career aspirations, including:
Pursuing a Path in the Public Sector
Featuring Canada Revenue Agency and Office of the Auditor General of BC
Choosing the Right Career Path for You
Featuring First Nations Financial Management Board, Invictus Accounting Group, Kal Tire, and Western Forest Products
The New Face of the Firm
Featuring Deloitte, EY, KPMG (moderator), and MNP
Meaningful Work in Midsize Firms
Featuring Baker Tilly WM LLP, Crowe MacKay LLP, Davidson & Company LLP, DMCL CPA LLP, Galloway Botteselle & Company, and Smythe LLP
Speed Networking
Following the career panels, networking sessions where participants had the chance to dive deeper into the discussion with peers and local business leaders opened on CPABC' virtual event platform. A quick and effective way to meet hiring managers and recruitment professionals one-on-one, over 300 virtual networking sessions took place.
Career Expos
CPABC then brought Career Week to Vancouver on September 7, 2023, at the Vancouver Convention Centre. Over 200 attendees met with 39 organizations to expand their network and explore exciting career opportunities in business, accounting, and finance.
The team also hosted Career Week in Kelowna on September 11, 2023, at the Coast Capri Hotel, where over 80 attendees met with 9 local organizations to make meaningful connections and discover the career opportunities available to them.
Thank you to everyone who participated in September! If you missed the event, bookmark our upcoming recruitment events page to stay up to date with us. Questions? Email careers@bccpa.ca.
CPABC Career Week
CPABC Career Week