Celebrating CPABC's 2019 Member Recognition Award Recipients
On July 29, CPABC recognized the 25 honourees of its 2019 Member Recognition Program. With physical distancing requirements still in place because of COVID-19, the latest recipients of the FCPA designation and the Early Achievement, Distinguished Service, and Lifetime Achievement awards were celebrated with an online presentation that highlighted each honouree.
This festive broadcast was live-streamed on CPABC's social media channels and included interviews with award recipients, their personal reflections on topics such as leadership, volunteerism, and mentorship, as well as quotes from individuals who had supported their nomination for an award.
The presentation also included remarks from CPABC Board Chair Ben Sander, FCPA, FCA, who commended the honourees for their notable contributions, saying, "Whether you are transforming a business through your financial skill, giving back to the accounting profession, or providing voluntary leadership to a community organization, you have made a valuable difference through your involvement."
CPABC President and CEO Lori Mathison, FCPA, FCGA, LLB, also spoke, saying, "Honourees, the service you render as leaders, volunteers, community workers, and educators has never been more important. I know that you will continue to set the standard for excellence as you guide businesses and individuals through these challenging times."
The CPAs recognized through CPABC's 2019 Member Recognition Program have made impressive contributions to the profession, the business community, and to charitable endeavours. Through their commitment, actions, and significant contributions, they represent the best of the profession. Honourees, we are proud to celebrate you – bravo!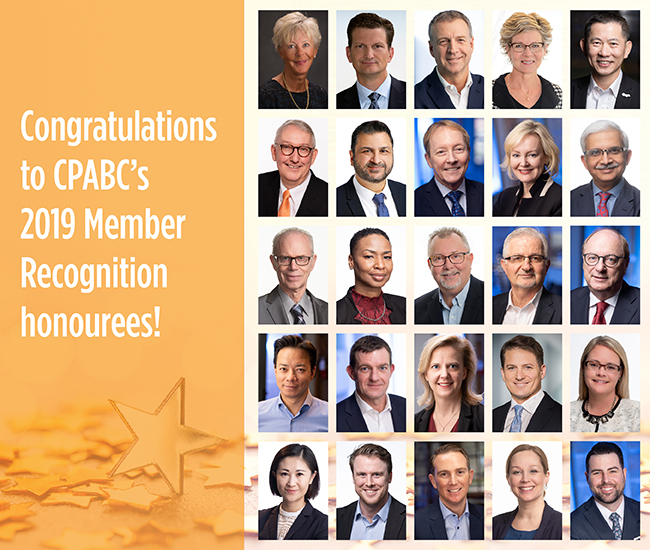 Celebrating CPABC's 2019 Member Recognition Award Recipients
Celebrating CPABC's 2019 Member Recognition Award Recipients