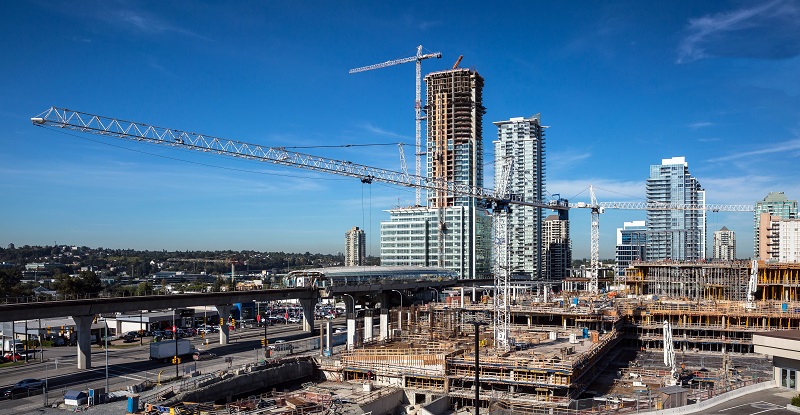 Photo credit: Alex_533/iStock/Getty Images
Listen to our podcast episode with CPABC's communications manager, Vivian Tse, and economist Aaron Aerts on the recently launched BC Check-Up: Invest report. It dives into how the COVID-19 pandemic has disrupted economic activity and investment across the province. Part of our Coffee Chats with CPABC podcast series.
---
According to CPABC's recent
BC Check-Up: Invest
report, BC's thriving investment activity came to an abrupt halt in the onset of COVID-19; and while there has been some recovery since, investment and business activity remains far below pre-pandemic levels.

Number of active businesses plummeted in spring 2020
To track the rapidly shifting business landscape through the pandemic Statistics Canada created new experimental datasets, including one that counted the
active number of businesses
across the country. This data highlighted how business activity faltered as the province enacted protocols to combat the COVID-19 pandemic, with the number of active businesses in BC falling by over 14,000 (or 10.7%) as of May 2020 compared to May 2020.
Fortunately, the situation improved as the economy began to recover, and by October, the province saw a net return of more than 7,600 active businesses. Still, the number of active businesses was 5.1% lower in October 2020 than in October 2019. The rate of growth has also slowed since the summer and continued social interaction restrictions are placing downward pressure on some industries, particularly in the service sector.

Housing starts plunged even as housing prices surged
A critical issue before the pandemic was housing affordability. Despite the pandemic, the situation worsened in 2020 as residential real estate activity picked up considerably through the latter half of the year, with demand notably outstripping market supply and driving up prices. A recent
housing market outlook
forecast the median home price would increase by 9.3% in 2020 as a whole and by another 5.6% in 2021.
As housing demand increased in 2020, investment in housing declined, putting further pressure on the future supply of residential real estate in BC. In fact, the level of housing units that started construction dropped precipitously in 2020, reversing the trend of increasingly strong housing starts witnessed in prior years.
Overall, the number of housing units that started construction was down by 18.3% in 2020 compared to 2019, representing a decline of 7,833 units (see Figure 1). The decline was concentrated amongst attached units, such as townhouses, apartments and condos. In the latter half of 2020, as the economy began to recover and economic uncertainty began to subside, housing starts began to rebound.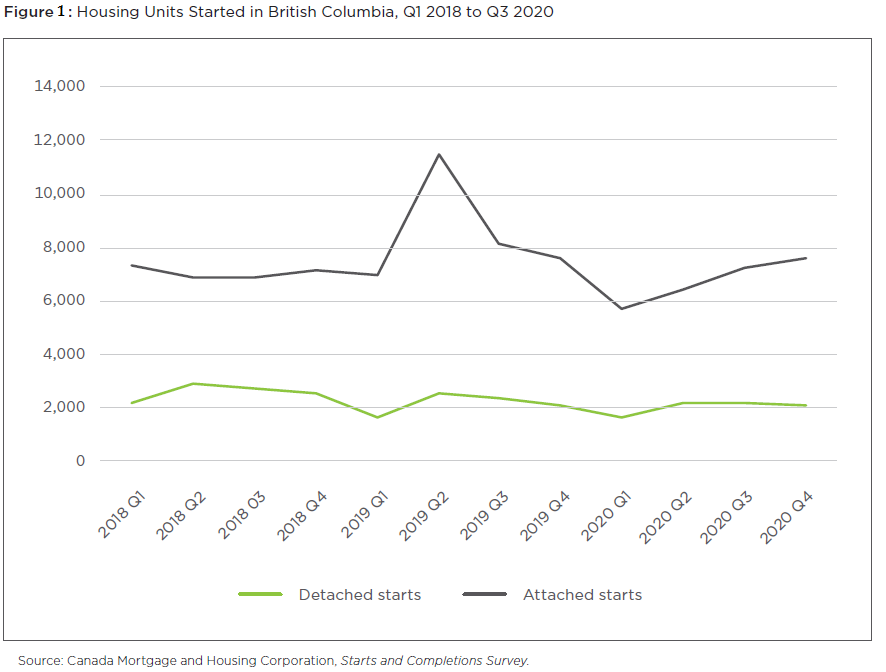 Less capital invested in commercial and industrial development
In 2020, the private sector invested $5.0 billion into commercial and industrial projects across British Columbia. While significant, this investment was 7.9% (or $430.2 million) lower than the level of investment compared to in 2019 (see Table 1). Commercial investment saw the largest decline, dropping by 8.4%, while industrial investment fell by 5.3%. Conversely, institutional and government investment increased by 1.6% over the same period.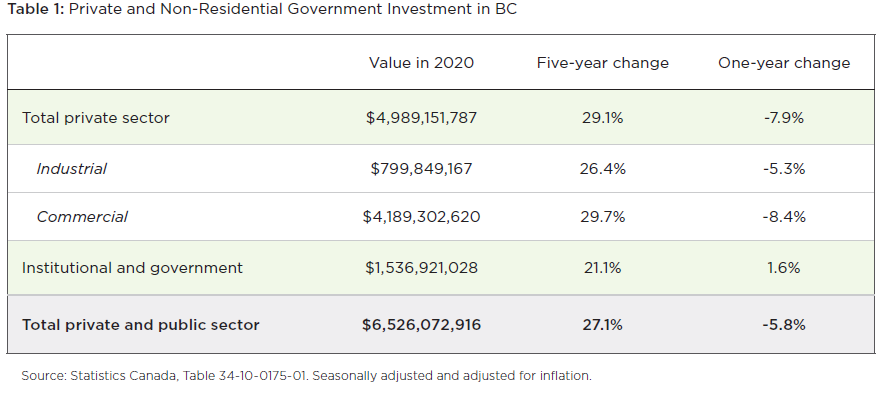 One silver lining is that despite the decline in private non-residential investment levels in 2020, these levels remained well above those seen prior to 2019. In fact, investment in private non-residential activity was up 29.1% overall compared to five years ago. Given the low interest rate environment and the economic recovery currently underway, investment conditions should improve through 2021.

GDP per resident fell, while debt soared
The COVID-19 pandemic has also deeply damaged some key economic and fiscal indicators across the globe. The 2020 recession was considerably worse than any in recent history, including the 2009 recession when BC's real GDP fell by 2.6% before returning to
growth in 2010
. During the current recession, BC's real GDP per capita is forecast to shrink to $49,546 in 2020, down nearly $4,000 (-7.2%) from 2019 (see Table 2).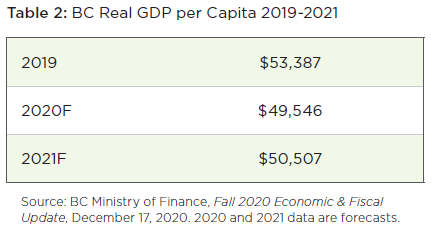 While BC is forecast to be one of the strongest provinces for growth in 2021, it will take some time for the province to recover from the economic damage suffered during COVID-19. Although this figure is expected to improve in 2021, it is still expected to remain well below pre-crisis levels.
The COVID-19 pandemic also necessitated an unprecedented number of government fiscal transfers to businesses and residents struggling. In addition, government revenues also fell as economic activity slowed. Combined, these two factors put a significant dent in the BC Government's financial position for fiscal year 2020-2021, with a forecast deficit of
$13.6 billion
.
This deficit is expected to drive the net-debt-to-GDP ratio to 20.8% in fiscal year 2020-2021—a dramat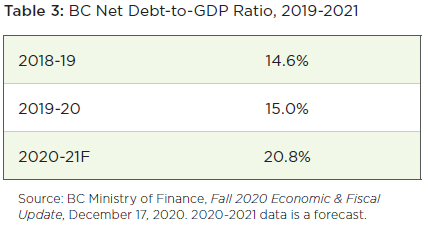 ic increase when compared to the previous year (see Table 3). While BC's current deficit is sizeable, it is considered a one-off situation caused by the pandemic.
Moreover, the additional debt taken on by BC pales in comparison to the amount of debt incurred at the federal level, and BC's debt is forecast to be the third lowest in the
country
. Still, as the economy continues to recover, the BC Government should consider a long-term plan in how to reduce the debt load back to pre-pandemic levels.

Major projects stimulated economic recovery
One trend that should speed up BC's economic recovery is the large number of major projects that were either under construction in 2020 or at the proposal stage. In fact, the total capital allocated for major projects (defined as projects with a capital cost of $15 million or higher) increased to $369.8 billion in Q3 2020, representing a 4.8% increase over the same period in 2019 (see Table 4). In addition, these major projects were spread across every region of the province.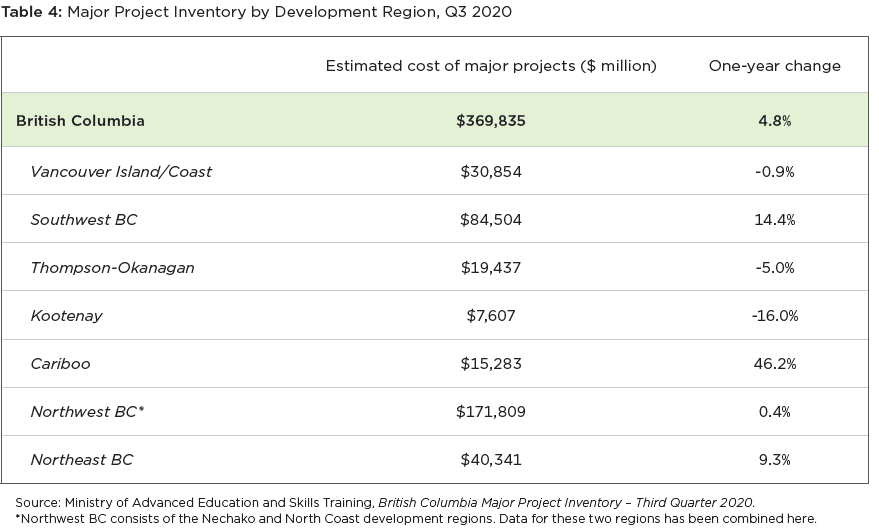 As of Q3 2020, nearly one-third ($117.8 billion) of them were under construction, including the LNG Canada export facility ($36 billion), the Coastal GasLink pipeline project ($6.2 billion), and the Trans Mountain Pipeline expansion project ($4.5 billion). The economic activity derived from these projects helped insulate BC from more severe economic damage in 2020.
In addition, major projects totalling over $77 billion were forecast to begin construction in late 2020 and into 2021, driving more economic activity across the province.
1
Once underway, these projects are expected to create thousands of direct and indirect jobs, give the province a financial boost, and bolster our economic recovery. In fact, these projects are largely why BC is expected to lead the country in
economic growth
in 2021.

Looking ahead: Attracting investment will be critical
With BC's economy not expected to recover fully until 2022, it is important to expedite our growth trajectory as much as possible. Investment in housing, non-residential developments, and major projects will be critical to BC's economic well-being as the government shifts its focus from minimizing economic damage to maximizing economic growth. Policies that attract capital and highlight BC's reputation as a secure, productive, and environmentally friendly place to invest will be paramount.
Read the full
BC Check-Up: Invest
report.
This article is a condensed version of the full article appearing in the March/April 2021 issue of
CPABC in Focus
.
---
Aaron Aerts is CPABC's economist.
1
At the time of this writing in February 2021, the most recent data available for major projects was from Q3 2020.
---