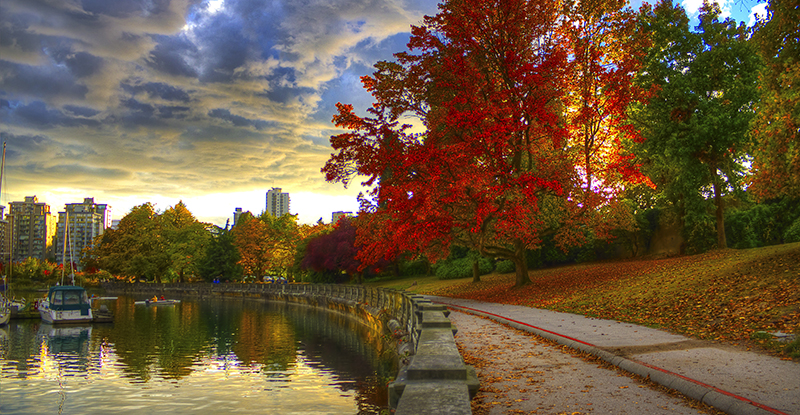 Photo credit: onurkurtic/iStock/Getty Images
Listen to our podcast episode about the latest BC Check-Up: Work report and our monthly economic update with CPABC's economist, Aaron Aerts, and communications specialist, Vince Kanasoot . Part of our Coffee Chats with CPABC podcast series.
---
CPABC's recent
BC Check-Up: Work
report focused on the job disruption that took place over the summer due to the COVID-19 pandemic. This piece provides an update on where employment stands in October in terms of demographic, industry, and regional trends.
While the province has recouped jobs in each of the last six months, many formerly employed individuals are still struggling to find work. As of October 2020, BC's unemployment rate stood at 8.0%, well above the 4.8% experienced in October 2019 and more than 85,000 jobs remain displaced. Making matters worse, all job losses are now full-time positions and the impact has also been unevenly distributed.

Demographic displacement
Recent job gains for women is narrowing the gap experienced earlier in the recession.
In August, the number of women employed in full-time positions was down 9.4% compared to last year, nearly two times higher than the decline for men over the same period (
see Table 1
). However, women employed in full-time positions increased by almost 40,000 between August and October and have now brought the relative job loss in line with men.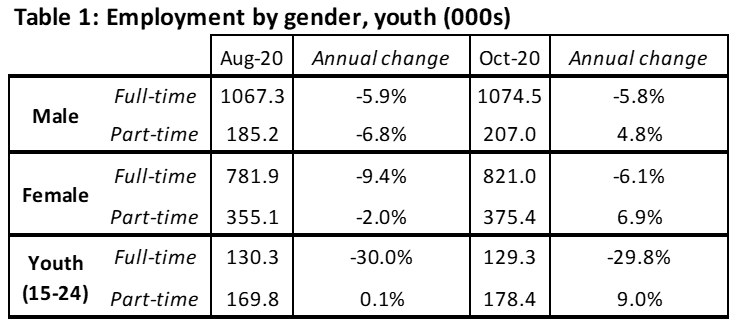 Youth remain deeply affected.
At the peak of the recession, the unemployment rate for those aged 15 to 24 was nearly 30%, a level not experienced for over 30 years. While the situation improved as some jobs returned, young British Columbians still face a very weak job market. In October, the unemployment rate stood at 15.6% and almost one in every three full-time positions remained displaced compared to last year. For many looking for their entry into the workforce, this is an immense challenge.

Industry displacement
Service sector:
The COVID-19 pandemic quickly disrupted industries that required high density and close interaction — a prerequisite for much of the service sector. The
BC Check-Up
report found the three hardest hit industries in August were 1) information, culture and recreation which includes media production and entertainment businesses (-31.6%); 2) business services which encompasses building maintenance and administration (-18.0%); and 3) other services, such as household and personal services (-13.3%).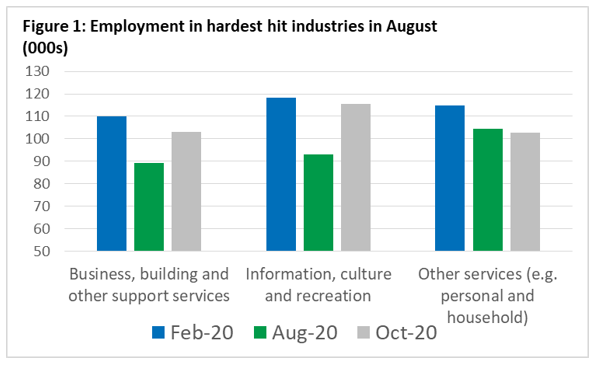 "Other services" has struggled to recoup jobs, but the two other hardest hit industries have seen strong job growth and are now approaching pre-pandemic levels (see Figure 1). The service sector as a whole has also managed to bounce back, with October annual job loss standing at 3.7%, a significant improvement compared to August (-7.6%).
Goods sector:
Through the crisis, the goods sector has been more resilient than the service sector. In fact, as of October, employment in natural resources, manufacturing, and agriculture were all above pre-crisis levels. However, the construction industry has struggled in the face of relatively slower activity. In October, more than one in seven construction jobs were displaced compared to last year (-14.9%). This dragged overall employment in the goods sector down by 1.7% compared to last year.

Regional displacement
Due to the unique characteristic of each of BC's development regions, the impact of the COVID-19 pandemic has been experienced differently across the province.
In October, the three highest unemployment rates were in Cariboo, Southwest BC, and Vancouver Island (see Table 2).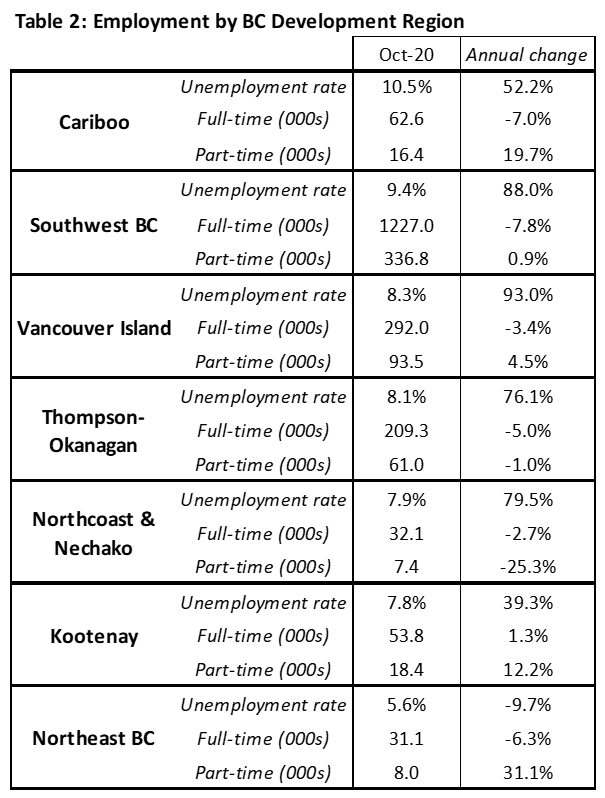 In almost every region, full-time positions make up the majority of annual job losses, with Southwest BC experiencing the largest decline (-7.8%). The exception is in the Kootenay, where employment increased in October compared to last year.
The October data marks an improvement over August for each region, but the data also highlights that there is a long way before employment returns to pre-pandemic levels.

Outlook
Many lost positions may take years to return, or may disappear entirely. It is critical for governments of all levels to find solutions to support those most affected, such as through skills training. Looking forward, BC's unemployment rate is forecasted to gradually decrease, but remain above our historic average.
According to CPABC's
economic dashboard
, it is expected that BC's unemployment rate will be 9.3% in 2020 on an annual basis, before declining to 7.2% in 2021. While an improvement, this remains close to double pre-pandemic figures, and indicates that it could take several years for the province to recover from the COVID-19 pandemic.
To learn more, see www.bccheckup.com. Data is from Statistics Canada Labour Force Survey. Provincial monthly data is seasonally adjusted. Regional monthly data follows a moving three-month average and is not seasonally adjusted.
---
Visit CPABC's
resource centre
for more information on COVID-19.
---