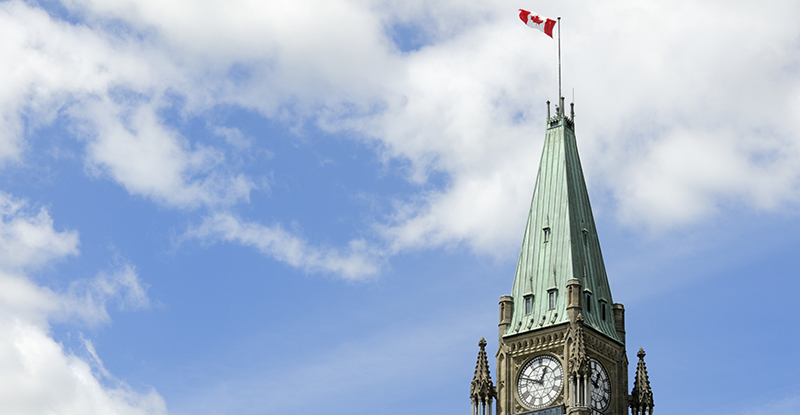 Photo credit: KeithBinns/iStock/Getty Images
Several programs including CEWS extended into next fiscal year, new spending announced
On November 30, the Government of Canada released its
Fall Economic Statement
. The statement provided an update on the fiscal situation, expansion of relief programs, and programs meant to help economic recovery going forward.

Fiscal and economic situation
The federal deficit is expected to hit $381.6 billion (17.5% of GDP) in fiscal year 2020/21, nearly $40 billion higher than the forecast put forward in July.
This is largely due to new spending, including the extension of the Canada Emergency Wage Subsidy (CEWS) until June 2021.
The statement highlights how this spending is meant to be a one-time cost and is sustainable in the context of record low debt servicing costs due to rock-bottom interest rates.
Still, large deficits are expected to continue beyond this fiscal year. The deficit is forecast at $121.2 billion in fiscal year 2021/22 before moderating to around $25 billion by fiscal year 2025/26.
The deficit spending will drive federal net debt-to-GDP to over 50%.
It is important to note that there is a large degree of uncertainty estimating the size of the deficit/debt both this fiscal year and going forward, and further downside risk is possible.
Real GDP is forecast to contract 6.8% in 2020 before bouncing back 5.5% in 2021. The economy is not expected to return to pre-pandemic levels until into 2022.

Extension of existing programs, new funding announced
Here's a breakdown of some key announcements:
Canadian Emergency Wage Subsidy (CEWS) to be extended to June 2021. The maximum rate is to increase to 75% between December 20, 2020 and March 13, 2021.
Canadian Emergency Rent Subsidy (CERS) to be extended for an additional three months, from December 20, 2020 to March 13, 2021.
Sector-specific supports were announced, including for the struggling airline industry ($540 million next year) and arts sector ($182 million next year).
Employees working from home in 2020 can claim up to $400 without the need to track detailed expenses.
Over the next three fiscal years, $70 to $100 billion has been earmarked for economic recovery, but few details were provided. More information is expected next Spring.
Many other changes were announced; for more specifics, see the government's comprehensive list of support programs.

The road to economic recovery
Canada has put forward one of the largest relief packages
of any G20 nation
. Government analysis estimates that without the support package the unemployment rate would have been six percentage points higher than what occurred, translating into an additional 1.2 million jobs lost.
However, the large fiscal hole will require long-term consideration to address the growing debt levels incurred through the crisis. So far, the federal government has largely avoided indicating how they may look to increase revenues or decrease expenditures as the economy recovers.
The statement also highlights how going forward we must pivot from stabilising the economy from the effects of the pandemic to focusing on economic recovery.
CPABC will continue to provide
updates
on government initiatives and fiscal indicators to provide insight on the economic recovery process. To see more analysis on the overall economic situation, see CPABC's
economic dashboard
.
---
Aaron Aerts is an economist for the Chartered Professional Accountants of BC (CPABC).
---