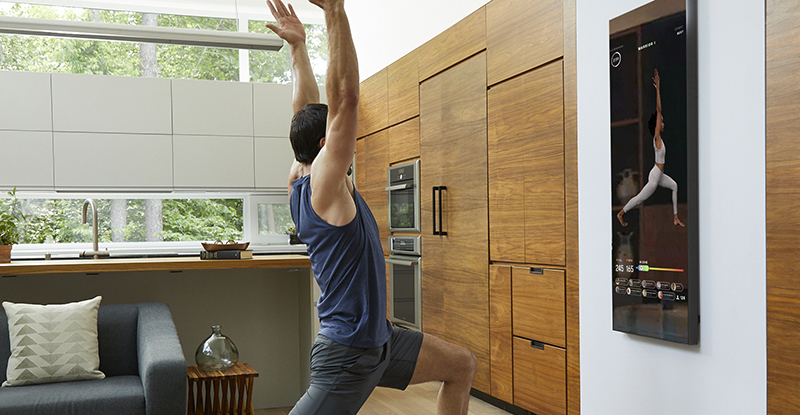 Photo credit: Mirror
Companies like Mirror and Peloton are part of a new breed of fitness tech re-defining the home gym
CPA
Carey Dillen
is used to success. For five years, she was the vice-president of finance for the Vancouver Olympics, overseeing a $10-billion budget, ushering in a rare Games that was not only debt-free but profitable for the host city. Since 2015, as the president of YYOGA, she has helped grow the Vancouver-based fitness startup to 170 employees, with 12 yoga studios in British Columbia and Ontario.
"COVID put a damper on that," admits Dillen, explaining that when the lockdown started in March, she had to shutter all the studios and offer refunds to YYOGA members. Revenues dropped to nearly zero. "I had never had to lay off staff before," she says. "It was incredibly difficult."
Dillen's experience mirrors the precarious position of many fitness companies these days, companies that find themselves in a sudden decline after years of significant expansion. Prior to the COVID-19 lockdowns, the North American fitness industry was worth more than US$30 billion per year, ticking up between three to four per cent annually.
Now, many big U.S. chains have gone bankrupt, including Gold's Gym and 24 Hour Fitness. The Fitness Industry Council of Canada has predicted there will be "massive closures" north of the border due to catastrophic, coronavirus-related revenue loss.
One reason gyms and yoga studios are failing is their growth has largely been driven by in-person experiences. Even in the age of Amazon and Bumble, meeting with a trainer or doing a Zumba class with friends was still considered preferable to, say, watching a how-to video on YouTube.
According to a study from the International Health, Racquet & Sportsclub Association, in 2019, one in five North Americans had a membership to a health club, gym or studio. At-home exercise apps and equipment, meanwhile, were most often a seasonal plan B, research from LatentView Analytics showed. The biggest success factor of any fitness business, it reported, is a sense of community.
And while COVID-19 hasn't exactly quashed the possibility of having shared fitness experiences, it's certainly changed what that looks like. And businesses that facilitate—or even simulate—togetherness seem poised to dominate the market.
Take startups such as Peloton and Mirror, which stream cycling classes. Peloton's classes are delivered through built-in flat screens on their own line of high-end stationary bikes. Mirror's air on wall-mounted screens that look like mirrors when turned off. Both are coming out ahead on the community-building front.
"Peloton's features allow members to stay connected with others, as well as Peloton instructors across the globe, an offer that is especially appreciated during these physically distant times," says Jamie Herbert, general manager at Peloton Canada.
Chief among them, he says, is "the 'leaderboard,' which displays a scrolling list of members taking the same class with their real-time metrics [heart race, cadence]. With the ability to set fitness goals and work out with others in both live and on-demand classes, members form a sense of camaraderie with one another and even develop connections outside the Peloton platform," he explains. Cyber-cyclists can meet post workout by joining a Peloton Facebook group for their city, where they plan both digital and in-person rides.
Mirror allows friends to take virtual classes together, lists the name of everyone taking the same class to foster camaraderie—or at least familiarity—and has share features that allow users to upload their workout results (calories burned, heart rate achieved) to Facebook—a show of self-congratulations, perhaps, but also allegiance.
After years of struggling, Peloton's stock prices this year have jumped 10 per cent and between February and March, downloads of its app quintupled. Mirror was recently bought by Vancouver-based athleisure giant Lululemon for US$500 million—a considerable figure for a two-year-old startup, even one that counts Gwyneth Paltrow and Kate Hudson among its users.
One barrier to entry, however, is that both Peloton and Mirror require expensive hardware. A Peloton bike costs more than US$2,600, a Mirror upwards of US$1,500—leaving room for other businesses to entice users with more modest budgets. New York-based NEOU was specifically launched in 2019 by founder Nate Forster because his sister, a single mother of three, couldn't afford a Peloton.
As an alternative, he designed an app that links her, as well as users from around the world, to 3,000 pre-taped or live classes of various kinds from popular gyms such as SoulCycle and Barry's Bootcamp. While some classes are meant for people with bikes and weights, others require no equipment at all. The up-close camera angles and loud music are meant to simulate the feeling of being in an energetic studio; and like Peloton cyclists, NEOU users can see which of their friends are taking the same class.
So far, NEOU doesn't appear to be a seasonal fad. Among the subscribers amassed in the first year of operations—who currently number 50,000 and pay about US$12 a month—there's a 90 per cent retention rate month-to-month. That repeat business has helped the company raise more than US$30 million in venture financing, and an early valuation of $40 million. Forster's goal is to be "the Netflix of fitness," says Jaime Kinsley, NEOU's head of communication.
NEOU, like Peloton and Mirror, is a digital native—a company started specifically to offer consumers at-home, computer-connected fitness. But pivots from bricks and mortar are also proving possible in the current market. ClassPass, for example, started in 2013 to offer subscribers access to a network of 30,000 workout studios. Why join one gym, when you can join them all?
That inducement faltered once COVID hit. The pandemic temporarily shuttered the physical locations of 95 per cent of ClassPass's global fitness partners. "So we added digital classes in March," says Mandy Menaker, the company's senior public relations manager, explaining that they worked with these partners to help them get online classes up and running.
Demand, she says, grew "25 per cent week over week during the first few months of this offer." While Menaker recognizes that online classes can't replicate the specific experience of a group class, she believes that "energetic and encouraging instructors" help create "community feel."
Well ahead of the pandemic, in 2019, YYOGA started offering online classes through a proprietary app. However, at the time, "many of our members didn't even know it existed," says Dillen, because of the general preference for in-person yoga. That changed in March. Now, in addition to existing members in Ontario and B.C., many of whom enjoy seeing their favourite instructors leading classes from familiar studios (and sometimes from home), "we're also seeing people sign into our online classes from all over the world," Dillen adds.
The transition hasn't been seamless. YYOGA has had to close two of its physical locations permanently. Part of the challenge is that in-person members typically pay over $20 per class. Digital yogis pay about $8 per month, all classes included. "There are so many free classes on YouTube," says Dillen. "We're trying to add value with community fitness challenges, online social gatherings. But the app hasn't replaced in-person. At least not yet."
---
Matthew Hague is a Toronto-based freelance writer. His work appears regularly in The Globe and Mail. He has an MBA from the Ted Rogers School of Management.

Originally published by CPA Canada, Pivot magazine.
---