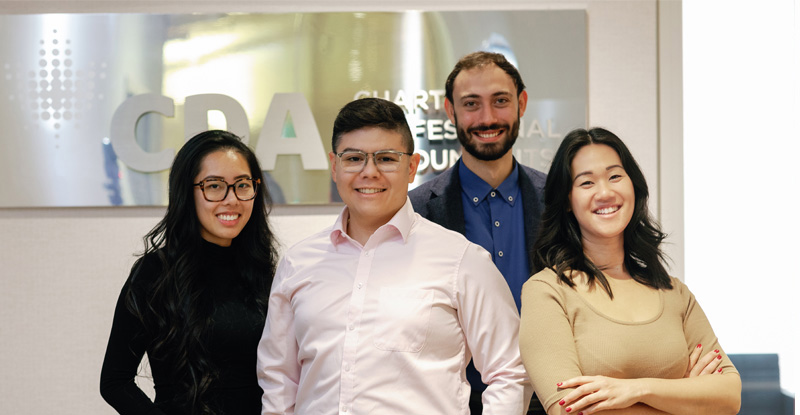 Photo credit: CPABC
VANCOUVER, February 15, 2023 — For the fourth consecutive year, the Chartered Professional Accountants of British Columbia (CPABC) has been recognized as one of B.C.'s Top Employers.
"I am proud of every individual at CPABC, because this recognition honours the collective efforts of our entire team. CPABC continues to foster a collaborative, supportive culture that celebrates diversity in talent and individuality, and every employee helps this culture thrive," said Lori Mathison, FCPA, FCGA, LLB, president and CEO of CPABC. "CPABC is unquestionably driven by its diverse mix of people and the individual merits they all bring to the table."
Key features in CPABC's Top Employer recognition were its ongoing support of professional development and its hybrid work culture, which ensures organizational performance while providing flexibility for individuals. CPABC was also noted for its continuous commitment to supporting local communities and advancing equity, diversity and inclusion in the workplace, to build a safe and supportive culture for staff.
"It's important to continue to foster awareness of the diverse voices and key issues in the world we live in, and to step up and positively impact our communities when we can. We want our employees to give back, and we want the organization to give back," stated Mathison.
Employers on the B.C. Top Employer's list were evaluated and selected based on eight criteria: physical workplace; work atmosphere and social; health, financial and family benefits; vacation and time off; employee communications; performance management; training and skills development; and community involvement.
Read the complete list of B.C.'s Top Employers for 2023.

NOTE TO JOURNALISTS: Photos are available by request.
---
About CPA British Columbia
The Chartered Professional Accountants of British Columbia (CPABC) is the training, governing, and regulatory body for over 39,000 CPA members and 6,000 CPA candidates and students. CPABC carries out its primary mission to protect the public by enforcing the highest professional and ethical standards and contributing to the advancement of public policy.
– 30 –
For media inquiries, contact:
Vince Kanasoot, Communications Specialist
236.668.2175
news@bccpa.ca