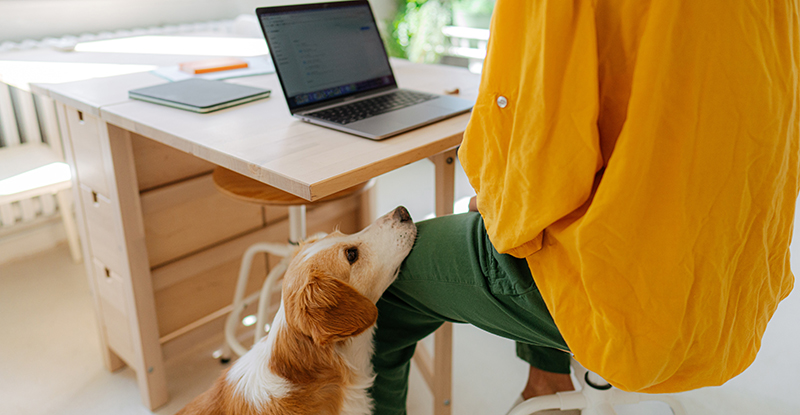 Photo credit: AleksandarNakic/E+/Getty Images
Out of the pandemic, employees are demanding more than competitive salaries from employers. Here are three compensation trends that are shaping current packages.
As many industries have adopted hybrid work models, they have also adapted recruitment efforts and incentive offerings, as employee expectations and demands evolve.

The accounting industry is no different, with firms shifting their policies, practices and strategies to emphasize their commitment to employee well-being and workplace flexibility to retain talent.
We spoke to a few experts to find out how this influences CPA compensation packages. Here are three pre-to-post pandemic themes they've noticed.
Prioritizing work-life balance
Mental health and flexibility in the workplace are front and centre in boardroom discussions. According to PwC's Canadian office worker survey 2021, 46 per cent of Canadian employee respondents claim mental health issues have been one of their biggest work challenges since the start of the pandemic, while 15 per cent of respondents say they would prefer to work entirely remotely.
"The first question I get asked now by candidates is whether the role is remote, hybrid or in the office. Not what the job pays," says Jennifer Mazzarolo, CPA, president of GTA-based firm, Maverick Consulting Group, which specializes in recruitment, transition and coaching services for CPAs. "Base salary is still important, but people are willing to give a little in that regard to get the flexibility we have all enjoyed during the pandemic."
Accounting firms are responding by revamping employee policies and programs that focus on mental health support programs, flexible work arrangements and diversity, equity and inclusion (DEI) efforts.
"Life at KPMG", for example, offers employees 50 hours of personal care time, a $2,000 annual mental health support coverage, extended parental leave and leaves of absence opportunities. A remote work and travel program allows employees to work in eligible destinations for eight weeks annually, while Summer Splash makes every weekend in July and August a long one."
Deloitte's Workplace of the Future includes: "Dress For Your Day" allowing employees to choose their attire; innovative offices with unique workspaces, such as private offices, cafés, treadmill-walk-and-work stations; up to $4,000 for annual mental health support coverage; and a range of resource groups including Pride Community, Indigenous and Allies, Canadian Black Professionals Network and AccessAbility.
Meanwhile, at EY, personalized career development, flexibility and mobility, and health and wellness, including up to $5,000 in mental health coverage support, are priorities.
"It's an active candidate-driven market," says Mazzarolo. "Instead of The Great Resignation, I think it's 'The Great Awakening.' Candidates are looking at what's in it for me, realizing they are the architects of their own careers."
Salary over bonus
Despite their longtime presence in the traditional CPA compensation package, bonuses are being abandoned in some firms, notes Adele Harraway, managing partner, Canadian Accounting Consultants, which specializes in CPA recruitment. Instead, firms are upping the starting salary to entice candidates. This is in line with the results of a CPA Canada poll, where members ranked salary as the top benefit that would affect their decision to accept a new job.
"Salary increases have not kept up with inflation with many companies capping increases at five per cent, often resulting in people having to leave to get an increase," says Harraway. "As a result, companies are getting more creative in their recruitment efforts by upping the base salaries to above the market average."
Furthermore, adds Mazzarolo, CPAs are looking for more than the basics, meaning it's beyond money guiding their employment decisions.
Recalling her early career as an accountant back in the 1990s and 2000s, she says: " I would have focused on base, bonus, pension, benefits and vacation. Today's CPAs are looking for all those things and more and in varying degrees of importance."
The other component is an equity stake. Whether that is in the form of restricted stock units (RSUs) or share options, CPAs are looking for total rewards that will allow their investment in the company's success, through their own hard work, to pay off."
Beyond benefit packages
Benefit packages offered to CPAs include comprehensive health and wellness coverage, employer-matching group pensions or stock-option plans, and standard vacation time and personal time off (PTO).
"Before the pandemic, you saw some companies offering two-week vacation to start, but now it seems three weeks is the norm," says CPA Marc Belaiche, president of Torontojobs.ca. "PTO is anywhere from one to five days with some companies being more generous than others."
Other perks sought by CPAs include coverage of their annual professional designation fees and reimbursement for costs incurred to earn their continuing professional development (CPD) hours. Some things are regarded as more important than, for example, the company health plan, says Harraway, who adds: "CPAs are looking for the ability to make decisions as adult professionals. Instead of having a company feel they have control over them, it's a culture of respect, collaboration, engagement, coaching, as well as career development and opportunities, that can keep someone."
Professional development opportunities and career growth plans—which can include mentorship, job shadowing and secondments—are also valued and prioritized, particularly for new CPAs keen to strategize a career path.
At PwC, in addition to remote work and flexible schedule options, such as reduced hours, time away and compressed work weeks, there is a push for professional development through enhanced recruitment, skills development, coaching and mentorship.
"Discussing goals and objectives should be done more than once a year," says Mazzarolo. "Ongoing communication and dialogue should happen with managers. Nobody should have to leave an organization to grow professionally."
Shaping your own career
Wondering about a raise but unsure how to broach the topic with management? Here are tips on how to negotiate a salary boost without ruffling feathers. If you're considering leaving your role, here's how to do so gracefully. Do you feel like you just don't fit in at work? It may not be you, but your career. Take notes here.
---
Sophie Nicholls Jones is a seasoned reporter, writer and editor, with a focus on the business and financial sectors.
Originally published by CPA Canada's news site.