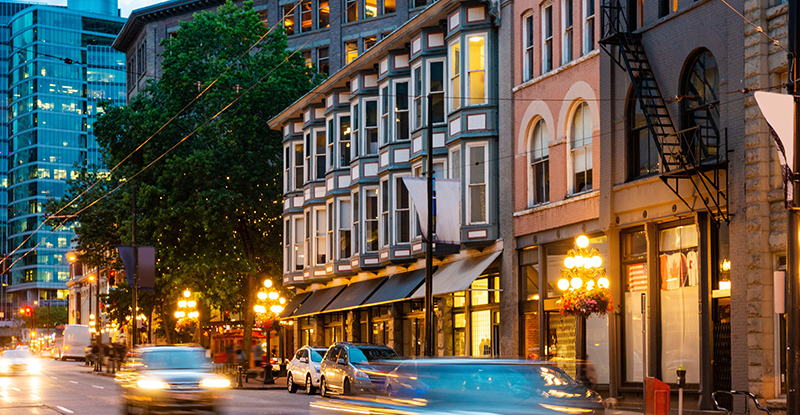 Photo credit: Boogich/iStock/Getty Images
In this podcast episode, CPABC's economist Aaron Aerts speaks with Vivian Tse, director of communications, CPABC about economic trends, including inflation, interest rates, housing prices, and the labour market. Part of our Coffee Chats with CPABC podcast series.
---
British Columbia's economy has faced a growing number of challenges, as rising inflationary pressures have forced the Bank of Canada (BoC) to rapidly increase interest rates. These rate increases have gradually lowered inflation, but have also worsened our economic growth outlook. While the province is still benefiting from a strong labour market, the robust growth seen earlier in the year has weakened.
Inflation plateaued earlier this summer, interest rates continue to rise
Throughout 2022, the price of Canadian goods and services increased at a rate that hadn't been seen for nearly 40 years. In June , Canada's consumer price index (CPI) increased by 8.1% year-over-year, the highest annual rate since 1983. BC saw annual inflation peak in May at 8.1%.
This led to BoC, along with most other central banks across the globe, to rapidly increase interest rates. There was another increase in September, this time of 75 basis points, to bring the interest rate up to 3.25% and the cumulative increases since the start of the year to 300 basis points. The BoC is expected to increase the rate once again in December of this year.
The interest rate increases and gradually improving supply chains have begun to moderate price growth. Annual CPI growth in August was 7.0% for Canada and 7.3% in BC, a small decline for both from earlier in the summer. The slowdown has come as energy prices have begun to fall, though food prices continue to escalate. Over the rest of the year and into 2023, CPI levels are expected to moderate more significantly, potentially returning to within the BoC's target annual inflation range of 1-3% by the end of next year.
A decline in housing demand and sales due to rising interest rates have also helped cool housing prices in recent months. The average home in BC sold for $918,378 in August 2022, a decline of 17.2% from the all-time peak in February 2022. Despite the recent decrease, the August 2022 price remained 1.8% above August 2021 levels. However, the high interest rate environment is expected to continue to put downward pressure on home prices into 2023.
BC's labour market remains tight, but August brings job loss
BC's labour market is tight, with an unemployment rate of 4.8% as of August and a job vacancy rate – the proportion of unfilled, open jobs – of 7.1% in July (latest data available), remaining near the record high set earlier this year. Labour shortages have become a significant challenge, with 178,800 open, unfilled job positions, and only 137,400 unemployed individuals searching for work (according to the data available at the time of this writing).
While employment had continually increased in 10 of the past 12 months, with nearly 50,000 new jobs created over that period, employment is now decreasing. In August, the province's workforce shed 28,100 jobs – the largest monthly decline since April 2021. And while the provincial workforce is up 2.1% compared to August 2019, this lags population growth of 4.3% over the same period.
Goods sector employment has grown by 1.8% over the past year, but remained down by 1.4% compared to August 2019. This is primarily due to the construction workforce declining by 4.1% over this period, though the industry has recouped nearly 17,000 jobs over the past year. Service sector employment is up by 2.9% since August 2019, led by gains in public administration (+15.9%), professional services (+12.1%), and health care (+12.0%).
Economic outlook has worsened
Inflation, higher interest rates and labour shortages have caused pessimism in BC and Canada's economic outlook. An August update from BMO Capital Markets expects BC's real GDP to grow by just 1.1% in 2023. That's a significant decline from their February outlook, when real GDP growth was projected to reach 3.7% in 2023. Several prominent organizations, including RBC, believe that Canada will start 2023 with a mild recession. However, the expectation is that any downturn will be short.
---
Aaron Aerts is CPABC's economist