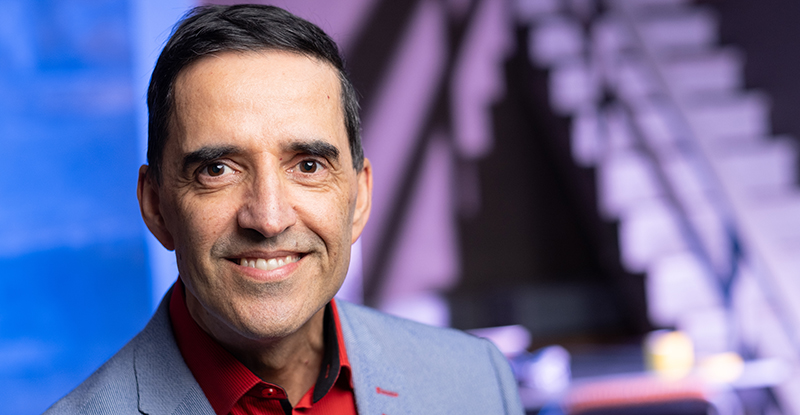 Photo credit: Kent Kallberg Studios
In this podcast episode, Mark Anthony Group's Victor Giacomin, FCPA, FCA, and one of this year's CPABC Member Recognition recipients, speaks with Leah Giesbrecht, communications specialist for CPABC. Part of our Coffee Chats with CPABC podcast series.
---
"If you look back at those tough moments in your life, you realize they were often the key turning points to going higher," says Victor Giacomin, FCPA, FCA, senior vice-president of finance and group treasurer at Mark Anthony Group. Resilience and a willingness to get out of his comfort zone in order to get to the next level are part of what he brings to the group's leadership team; he has helped guide the group to become one of the foremost diversified beverage companies in North America with annual revenues of approximately US$3 billion in 2021.
Victor, who was recently recognized with a Fellowship, chatted with CPABC about his career progression and shared some key learnings – particularly for new CPAs.
You began your career with Deloitte in the 1980s, and then took on senior finance roles at Future Shop, Avcorp Industries, Norsat International, West Bay Semiconductor, and in 2003, you joined The Mark Anthony Group.
Is there a story you could share that would tell us a bit about how you've progressed to where you are today?
It all starts with family; my father's parents were immigrants from Italy. They couldn't speak any English. They had a grade six education. My father was very fortunate that he had some great mentors who encouraged him to get an education at McGill in Montreal. That education changed his life. He made it clear to me and my siblings that getting an education was critical. I don't think I fully understood why at first, but I sure did later in life when I landed exciting jobs due, in large part, to having my CPA designation.
Could you tell us about your morning routine?
I think a morning routine and habits are the most critical keys to my success. In fact, I think habits are more important than goals. People have goals like, "Oh, I want to be a millionaire or I want to lose 40 pounds." Those are really the wrong goals to have. If you can develop a habit of, say, saving 10% of your salary or even having a daily fitness goal or diet change, that's a much better way to be successful. Having those big goals are nice to have in the background, but I've certainly found habits are more powerful.
As I get older, health becomes my single biggest priority. I spend the first 30 minutes every day just stretching. At the same time, I'm meditating. I'm setting my priorities and expectations for the day ahead. My priorities now are much more simplified – it's health, then relationships, then work.
And habits and priorities, once you have them ingrained, they make your decision so much easier. And frankly, the results are exceptional. I never would have dreamed I'd get to where I am today. Building in those kinds of habits, having that morning routine really sets up your day for success. And over time, those habits get more powerful and create more results.
You oversee approximately six direct reports and 30 indirect reports who work in areas as diverse as risk management, regulatory compliance, investments, and IT oversight.
With such a large and diverse team, how do you gain commitment from them.
I don't think there's any magic or silver bullet. I like to lead by example. I roll up my sleeves. I do the work as much as my staff do. I treat people with respect. I listen to their views. I make sure I connect face-to-face on a regular basis. I know something about their personal lives and their interests. I also give people positive feedback whenever I can. It's very rare in today's world where people are told how wonderful they are.
We live in a world that is quick to criticize and to find fault. I try to remind people every day of how great they are and if I can find anything they've done that's great, I try to reward them for it and I think that really pays dividends.
Part of leadership is overcoming challenges. Was there ever a time when you felt like you had missed the mark, and how did you bounce back?
I feel like I have failed in every aspect of my life, and I feel like I fail almost every day. Every day has setbacks and failures, but that's not necessarily a bad thing. As I've grown older, I've realized we're all struggling. Life can be difficult.
There are challenges every day, but I always get up the next day after a failure, consider my options, and move forward. Despite all the failures, you often end up in a better place as you fail and you get back up. I look at my own life. I'm in a better job. I have a better understanding of relationships. I have a better use of my time. If I could, I would tell my younger self – failure is not the problem. It's really how you react to it that counts.
Is there a piece of advice you would give to a new CPA to help plan and grow their career, as opposed to just finding and keeping a job?
I would encourage people to be curious and open to change, to welcome the challenges. The fun is in climbing the mountain. It's nice to get to the top. The view can be nice. We spend five minutes at the top looking at the beautiful view, but the real fun is in the journey up.
If you look back at the tough moments in your life, you realize that they were often the key turning point to going higher. And I can't overemphasize how important it is to get out of your comfort zone. The challenges we face aren't really something to be negative about, because at the end of the day, we all have four or five key tough moments in our life that really help us get to that next level.
You're a dedicated volunteer in your community with organizations such as the Pacific Autism Family Network, the Down Syndrome Research Foundation, and Guru Nanak's Free Kitchen.
What caused you to start volunteering?
During my early days at Deloitte & Touche, I helped run the United Way campaigns and I saw the benefits of giving. I also realized that I live a very privileged life in one of the greatest countries on earth. Having that kind of privilege, we're all concerned about the opposite end of the spectrum, whether it's drug abuse, homelessness, or living with disabilities. So it's a natural fit for me to give back where I can.
I plan to continue giving back well into my retirement years. I recently turned 60. And I read that your 60s is your most productive decade, so I feel like I'm just hitting my stride with everything I've learned up till now. And I'm quite excited that this is going to be my most productive 10 years. So what more could you ask for on that front?
Do you know an outstanding CPA who deserves to be championed? Nominate them for a CPABC Member Recognition Award by September 19, 2022. Information about the details on the different awards and the nomination process is available.
---
Leah Giesbrecht is a communications specialist for CPABC.