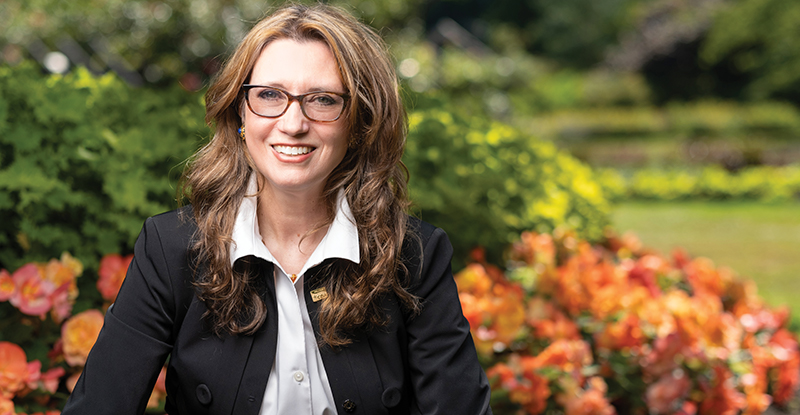 Photo credit: Kent Kallberg Studios
She doesn't consider herelf a natural risk-taker, but Karen Horcher is definitely cool under pressure.
"I'm pretty comfortable in true high-pressure situations and situations involving uncertainty," she says. "Maybe it was starting my trading career at an early age, but I was probably wired that way."
While she can't pinpoint what sparked her passion for finance, Karen remembers poring over classified ads as a young kid.
"I used to form opinions on 'good deals'—especially when it came to horses, cars, and real estate," she says. "Not that I was actually buying or selling anything with my allowance, but I liked to challenge myself, and in the process I probably learned about value."
The gold craze in the late 1970s also played a role.
"Inflation was running high, and when I read about the stock market in the newspaper, I was fascinated by the price changes," she says. "I started charting gold prices, which was a little unusual for a teenager."
When she learned about currency trading in a university economics class, Karen knew she'd found her (first) calling.
"I was really excited when I heard that currency traders were actually determining global exchange rates through their buying and selling," she says. "That seemed like 'real trading'—much more international, fast, and somewhat more democratic than the stock market. When I heard it was happening in Toronto, I decided I had to go. It sounded like the most wonderful job!"
Thus inspired, the young West Coaster left university at the end of the school year to head east. In 1986, after brief stints modelling and working in men's couture, she landed a job on the trading desk with the Bank of Tokyo, one of the world's largest banks at the time.
"My first trading job was managing our US dollar positions in the New York money market," she says. "Later, I traded in the spot interbank market—the "sports car" of markets—including as a market-maker."
Soon after joining the bank, Karen was put in charge of daily Canadian dollar updates for an international newswire agency. It was a dive into the deep end.
"Since the updates went out around the world and the risk of looking like a fool was real, it forced me to learn by studying the market, as I'm sure my chief dealer knew it would," she explains. "Learning to research and make judgment calls early on gave me confidence in forming my own trading decisions, which was a great gift."
During her tenure with the Bank of Tokyo, Karen also advised, structured, and executed large customer trades, both directly and on behalf of related entities in other time zones.
"I ran a small derivatives arbitrage business in Japanese yen," she says, "providing a market to Canadian banks lending and borrowing yen, arbitraging between the yen rates markets and the derivatives markets."
It was both an exciting and educational time.
"To me, trading is the most interesting part of the financial market," says Karen. "It's all about competitive advantage. The foreign exchange markets are the biggest markets in the world, and interbank trading is fast, so mistakes can be expensive. There's a constant stream of information for decision-making, and you have to be humble and somewhat comfortable not knowing what's going to happen next. The environment suited me."
The equity market crash of 1987 was her first memorable event as a young trader.
"Because of our interbank trading business, I was trading during the crisis—as carefully as possible," she says. "The equity crash later illustrated substantial settlement risks arising from the foreign exchange market, where the settlements between banks were huge. So we were all concerned, because there was a non-trivial risk that global financial settlements could stall. Fortunately, everything worked out, and it has been really interesting to me to see those settlement issues remedied in the following years."
While managing the hustle and bustle of trading, Karen completed the Canadian Securities Course and contemplated earning the chartered financial analyst (CFA) designation. Recognizing that the CFA required an undergraduate degree, she returned to university in 1989, shortly after making the move to Barclays Bank, another global bank. It meant working as a foreign exchange trader during the day and taking classes at night.
"In my evening classes, I usually watched the market on my mobile Reuters (a real-time pager)," she says. "At the break, I'd occasionally call Tokyo from the pay phone in the lobby to get an update or see if orders had been executed. Economics was interesting, but the real markets were much more so."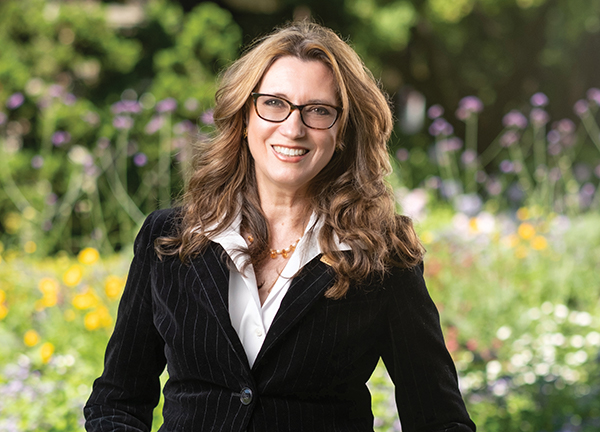 Around the same time, Karen acquired a seat on the Toronto Futures Exchange, then a division of the Toronto Stock Exchange.
"Since I was already busy with a full-time job trading for the bank," she says, "I leased it to other traders for about a decade until the exchange was eventually wound up and many of the traders transitioned to the Montreal Exchange."
In 1992, shortly before graduating from the University of Toronto, Karen left Barclays Bank to serve as assistant vice-president of the boutique firm Toron Capital Markets (now Cidel Asset Management), notable for launching one of Canada's first hedge funds. After almost a decade in trading, she was ready to pivot into risk management.
"There'd been rule changes related to derivatives, and suddenly it was 'derivatives, derivatives everywhere,'" she recounts. "Toron provided derivatives-based hedging strategies to manage balance sheet and transactional risk, and my role required me to be licensed with the Ontario Securities Commission. Working there gave me my first exposure to understanding financial risks more holistically."
She made her next move in 1995, joining Algorithmics (now part of SS&C Technologies), a pioneering Canadian developer of risk management and portfolio optimization technology and analytics for banking.
"The publication of J.P. Morgan's 'RiskMetrics' methodology in 1992 really started a new vanguard in managing bank risk," she explains. "It was the beginning of the widespread recognition of value-at-risk as a tool. Algorithmics' technology supported a new, quantitative approach to risk management and led to the separation of trading risk from bank-wide risk."
Serving as the firm's director of market development, Karen supported the development of research, partnerships, and global best practices in risk management for some of the world's largest banks.
"Working in a fast-growing fintech company, on the cutting edge of its industry, was definitely exciting," she says. "There was always something new."
The West Coast soon beckoned, however. After her music executive husband Paul Ryan was offered an opportunity in Vancouver, Karen decided it was time to tap into her entrepreneurial side. She reached out to contacts in Toronto and New York and soon began working as a management consultant, taking on technology and risk projects.
Within three years of returning to Vancouver, Karen not only made good on her goal of becoming a CFA—she also completed her legacy accounting designation.
"I'd started the CGA program early in my working life but didn't complete it until I got into risk management and saw the gaps in my knowledge," she says. "I was impatient, so I completed the CFA and CGA concurrently in 1999. The timing of the final exams was suboptimal—two days apart!"
Six years later, Karen launched her own firm, Hedge Rho Management Inc., and began providing management consulting and advisory services in treasury, payments, and derivatives for multinational corporations, financial institutions, and financial regulators.
"I enjoy having the flexibility to focus on projects that interest me and work with really smart people," she says. "One of my favourite projects so far was for a multinational corporation, involving dozens of companies and CFOs, several banks, and multiple currencies. I helped the treasurer streamline their global cash management, which had a substantial effect on their risk profile and on the cost of funds."
As much as she finds the technical aspects of projects satisfying, Karen says it's the human side that's most rewarding.
"I've had the benefit of having some incredible people support me and encourage me during my career," she says, "and I've tried to return the favour by taking care of those who entrust me with important business decisions."
Karen brings this people-first focus to her work as a corporate director as well. In addition to chairing the CPABC board, she currently serves on the boards of Telefilm Canada and the South Coast British Columbia Transportation Authority (TransLink).
"They are three distinctly different boards," she says, "each with its own challenges and opportunities."
To aid her in juggling three different mandates, Karen draws on training gained from the Institute of Corporate Directors, of which she is a member, and the Canada School of Public Service. She also draws on her 10-year role as an independent director for Pacific Pilotage Authority, the federal Crown corporation responsible for marine pilotage on the West Coast.
"I became chair of the audit committee for Pacific Pilotage Authority just as the 2008 financial crisis rocked the economy and world trade," she says. "I appreciated the opportunity to serve, and I loved learning about the business. I might be the only board member to have climbed a pilot ladder to board a ship! It was a little intimidating, but I thought it was important to my role as a director because we, as a board, authorized or mandated much of that process of taking a ship along our coast.
"In some ways," she continues, "understanding the business from the inside out is as important as any training, because every organization is unique."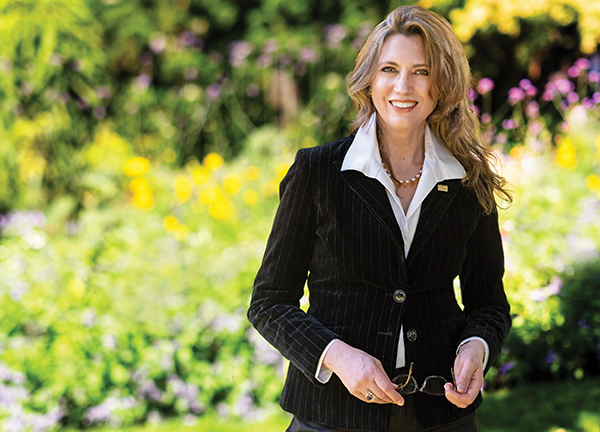 Karen describes her seven-year tenure on the faculty of the national executive education residency program for US treasury professionals at the Kenan-Flagler Business School at the University of North Carolina (UNC) as similarly rewarding.
"That was one of the most enjoyable things I've ever done professionally," she says. "I worked with some really interesting treasury professionals from all over the US, and I continue to be impressed with their accomplishments."
Her own accomplishments are extensive and varied. A contributing writer to several Canadian business magazines, Karen has authored four internationally published books on finance and risk management. She is also an experienced instructor, facilitating workshops for the Treasury Management Association of Canada (now AFP Canada) for nine years and leading workshops and seminars for provincial, national, and international accounting bodies for 15 years.
"As professionals, we share our experience and perspective, which is more valuable than theory alone," she says. "It has been gratifying to meet industry people years later who thanked me for helping them through a difficult subject or exam."
Karen has also shared her insights in a legal setting, serving as a subject matter expert for BC's two financial regulators and in legal cases involving derivatives.
"I enjoy that work immensely," she says. "It's highly analytical but also has an intuitive component as you independently try to assess a series of decisions that were made, after the fact."
Equally rewarding has been her long-standing involvement in the accounting profession. In addition to contributing as an instructor, Karen served as a subject matter expert for her legacy body for 15 years and as a trustee of its educational foundation for four. During that time, she had the opportunity to work with legacy members in several Caribbean countries—an experience she describes as transformative.
"Connecting with fellow members internationally—meeting their families and visiting their communities—is incredibly special," she says. "It allows you to experience the world from a different perspective, which indelibly affects your own."
Later, as the legacy bodies transitioned to unification, Karen joined CPA Canada's Strategy, Management Accounting and Finance Advisory Board. She served on the board for three years, including briefly as chair, and now serves on its successor, the Advisory Board for Sustainable Business.
"My CPA and legacy designations have opened many doors for me, and I'm incredibly grateful for that," she says of her desire to give back.
As to what the future holds beyond her tenure as CPABC chair, Karen isn't limiting herself.
"I'm a big believer in change, especially as we reach the 'outer limits' of our careers," she says. "As CPAs, we have the skills at any age to do something new, go in another direction, and take on a different career, even if it falls outside the established norms. It's important for us to keep learning and taking on new challenges mid-career and later, particularly as the world continues to evolve around us."
With that philosophy in mind, Karen has created an ambitious to-do list.
"Professionally, I'd like to build a new business, do some more teaching, and see more CPAs in leadership roles," she says. "Personally, I'd like to learn to fly a helicopter, make a documentary, and take my first-ever cruise."
Travel is a passion—she and Paul have been to more than 40 countries, often venturing off the beaten path—but with travel on hold for the time being, Karen has another hobby to keep her busy.
"I've collected many eclectic books on financial history," she says. "Some of my favourites are Where Are the Customers' Yachts? by Fred Schwed, Jr., Fooled by Randomness by Nassim Taleb, and Inventing Money by Nicholas Dunbar.
"You know," she adds, "I'm realizing now that they all deal with unexpected outcomes!"
Imagine that.
---
Michelle McRae is the managing editor of CPABC in Focus.
This article was originally published in the September/October 2021 issue of CPABC in Focus. All photos of Karen Horcher by Kent Kallberg Studios.