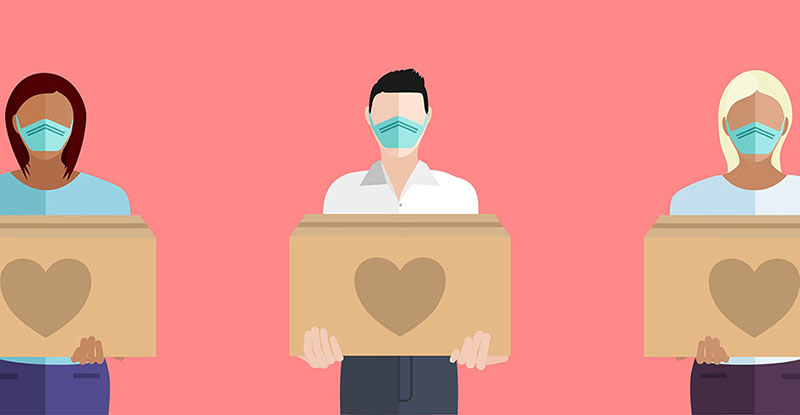 Photo credit: THPStock/iStock/Getty Images
After seeing the societal effects of the COVID-19 pandemic ripple through local communities, KPMG's offices in Metro Vancouver and Victoria mobilized employees to take action.
"The COVID-19 protocols dramatically altered the way we work, socialize, commute, and live—and the societal shift uncovered broad community issues and a lack of support for vulnerable populations," says Jodi Moss, CPA, CA, CPA (New Hampshire), a tax partner with KPMG's Vancouver office and leader of the firm's impact, inclusion and diversity initiatives for the Greater Vancouver Area (GVA). "Companies and individuals are faced with an opportunity to respond and lead with compassion, creativity, and a renewed sense of purpose. With more than 1,200 people working in our GVA offices, we have the collective power to make an impact and support our communities."
In response, KPMG's GVA Impact Team launched "1,000 Acts of Kindness," a 10-week challenge running from July to September, during which participating employees complete weekly tasks with the ultimate goal of collectively performing 1,000 acts of kindness.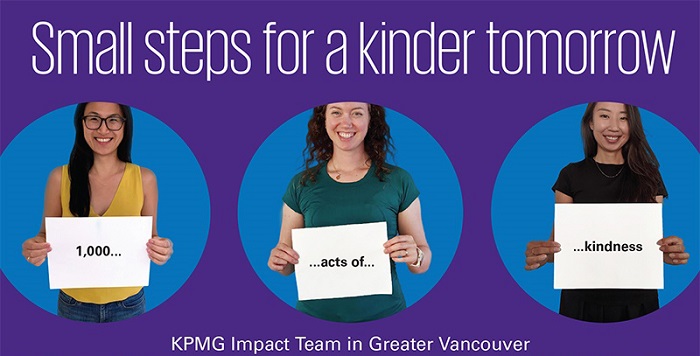 Image courtesy of KPMG
Creating positive change in diverse areas
When designing the challenge, the GVA Impact Team looked to the firm's ongoing impact, inclusion, and community efforts for inspiration. Since KPMG's local and national impact initiatives align with the United Nations' Sustainable Development Goals (SDGs), the GVA Impact Team used the firm's four focus SDGs as the foundation for 1,000 Acts of Kindness: SDG3- Good Health and Well-being, SDG4- Quality Education, SDG10- Reduced Inequalities, and SDG11- Sustainable Cities & Communities.
"We're using 1,000 Acts of Kindness to inspire learning, create meaningful change, and start conversations around topics such as environmental sustainability, inclusion and diversity, wellness, and support for small businesses and charities," explains Jocelyn Li, CPA, KPMG's impact manager for the GVA.
KPMG staff reflect on the 1,000 Acts of Kindness Challenge. Video courtesy of KPMG.
The GVA Impact Team also consulted with the firm's internal Sustainability, Wellness, Inclusion & Diversity, and Pride committees along with its Indigenous Peoples and Black Professional networks to determine the weekly tasks, which include sharing resources on allyship, taking Naloxone training, participating in neighborhood clean-ups, supporting non-profits, and practicing gratitude with colleagues and clients.
For Jodi, the task assigned for week 2—"calculating your personal carbon footprint"—was particularly meaningful: "This exercise showed me how a few small lifestyle changes could have a major impact on the sustainability of our planet and the quality of life for future generations."
Leadership and employee response
Jodi notes that the GVA leadership teams have championed 1,000 Acts of Kindness with tremendous enthusiasm, and the initiative has been positively received by employees across all departments and levels, with increased participation each week.
"While we're working towards accomplishing 1,000 acts of kindness, our focus is to create lasting change and keep conversations about these topics going in the long-term," she says.
And during this period of remote working and social distancing, the challenge has helped keep colleagues connected. Employees have been eager to share their 1,000 Acts of Kindness experiences and have even recruited family, friends, and others in the business community to get involved.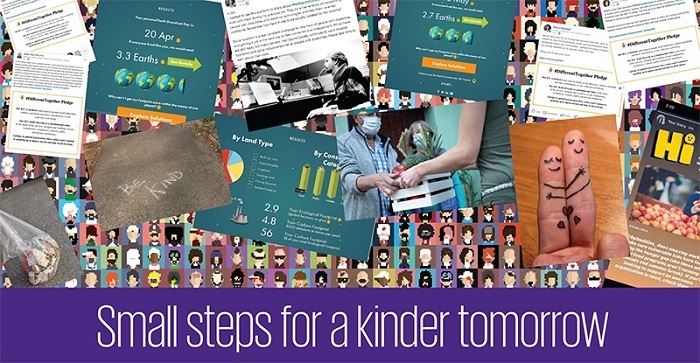 Image courtesy of KPMG
Thinking of the larger picture
While 1,000 Acts of Kindness was born out of the COVID-19 pandemic, the lessons learned and experiences gained from it will last long after life returns to normal.
"This pandemic has reminded us of the responsibility and opportunities we have to listen to and care for each other," says Tamira Nasanbat, KPMG's impact coordinator for the GVA. "We know we're stronger as a team, a firm, and a community when we come together to identify and implement solutions that benefit everyone."
"For us, the 1,000 Acts of Kindness challenge is a small first step in a long, important journey," adds Jocelyn. "We hope that other CPAs and the rest of the business community will take steps toward reaching out to their communities and making a positive impact."
The 1,000 Acts of Kindness challenge ends September 30.
---
Megan Hooge is a communications assistant and Vince Kanasoot is a communications specialist with the Chartered Professional Accountants of BC.