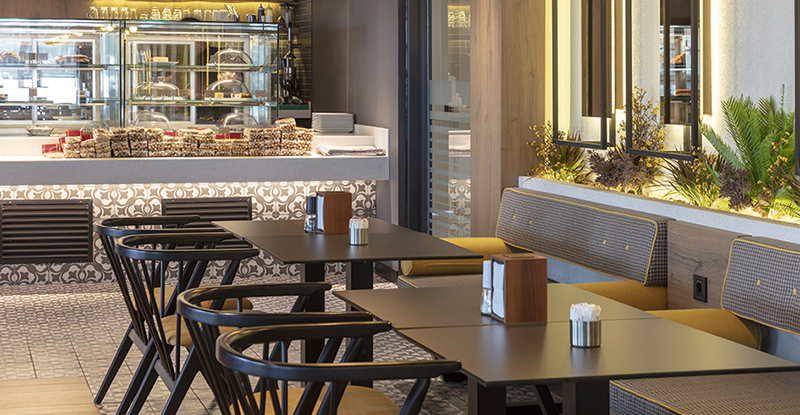 Photo credit: JazzIRT/iStock/Getty Images
Listen to Aaron Aerts, CPABC's economist, explain the current economic situation and what possible opportunities may lie ahead, in our "Coffee Chats with CPABC podcast".
---
As we better understand the implications of COVID-19 on our society and the measures required to curb its growth, organizations are updating their economic forecasts in real-time. This article tabulates some economic forecasts made after March 15 and will be updated as new information becomes available.
There are some important caveats to all economic forecasts in this rapidly evolving situation. Each makes different assumptions in terms of the length of time required to flatten the growth curve of COVID-19, creating significant disparities on the impact the pandemic has on the economy. Generally, the longer the containment measures are required, the worse the economic damage will be.
Overall, the forecasts expect a marked decline in economic activity as a result of the pandemic, with serious negative consequences for GDP growth and employment. The negative economic impact is expected to peak in Q2/Q3 followed by a healthy economic recovery in Q4 and into 2021, as the world returns to a semblance of normalcy.
Projections are further constrained by the evolving policy response. Federal and provincial governments have been adjusting their policies to minimize the impact of the economic damage on a seemingly weekly basis. In particular, the federal government has been increasing its rescue package rapidly over the past few weeks, with an unprecedented fiscal injection on the way to help both employees and employers affected by COVID-19. It is important to note that all of these forecasts come before the sizeable federal announcements made on March 27, including up to a 75% wage subsidy for small businesses.
The situation will continue to evolve as potential new measures are announced, more information on the trajectory of the number of cases emerges, and as new data is released on the economic impact so far. This resource will be updated as the ever-changing situation evolves.
Click on the thumbnail below to view current economic projections (updated April 3, 2020)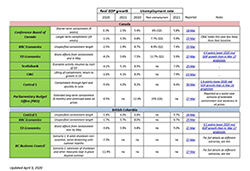 Related articles
---
Aaron Aerts is an economist for the Chartered Professional Accountants of BC