Early Achievement Award
---
Objective
Celebrates members who distinguish themselves early in their CPA career through professional achievement and/or volunteer service.
---
Selection criteria are:
Based on experience post designation only, and include one or more of the following areas:
Professional achievements
Demonstration of the nominee's abilities relating to financial expertise, leadership, strategic thinking and business insight and how they contribute to achieving targeted objectives.
Nature of the achievements and impact on the nominee's organization, whether in public practice, business or industry, education or government.
Originality and innovative nature of the achievements.
Impact of the achievements on the targeted clientele.
Leadership
Demonstration of the nominee's dynamism and determination in achieving targeted objectives or fulfilling responsibilities.
Nature and significance of the responsibilities assumed by the nominee throughout his or her career and career path.
Relationship between the nominee's achievements and future goals in terms of career development.
Visibility of the profession
Contribution of the nominee's achievements to the visibility of the profession.
Nomination files should highlight the fact that candidates clearly identify themselves as chartered professional accountants and that they are known and recognized as CPAs
Community services
Nature and significance of the nominee's involvement in the community, in particular as a volunteer with community or charitable organizations, other not-for-profit organizations or professional groups.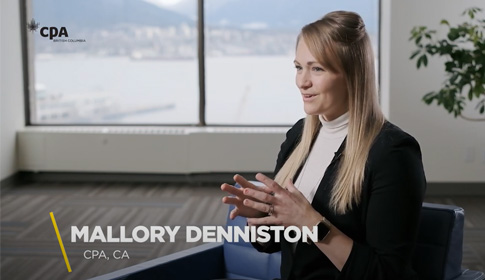 Meet some of our past Early Achievement Award recipients.
Eligibility criteria
Nominees must meet the following requirements:
Member in good standing
Have had their Canadian accounting designation for up to 10 years including up to one year past their 10th anniversary of membership
Recipients of equivalent legacy awards not eligible
Not be employed by CPABC or CPA Canada
Not have been unsuccessfully nominated for this award three or more times during the previous seven years (excluding any nominations made in 2016 or earlier)
Demonstrate significant achievements as outlined in the selection criteria
---
Other
Nominated by more than one member
Nominations are now open. All nomination files must be received by 4:00 pm, Monday, September 18, 2023.​

Early Achievement Award
Early Achievement Award