Capilano University Hosts 2020 Chancellor's Circle Dinner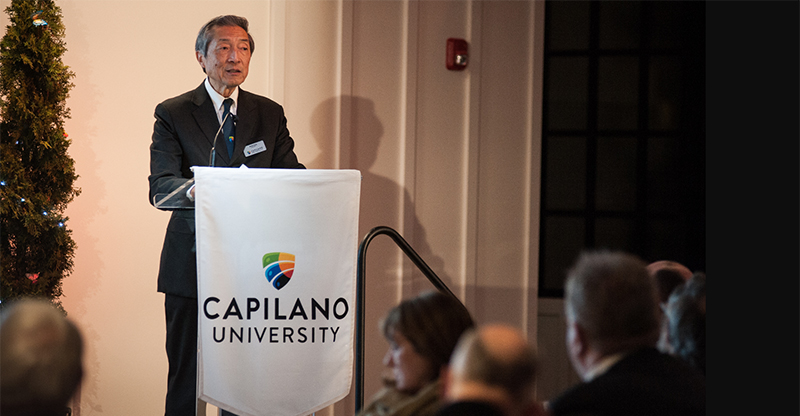 Photo credit: Dr. David Fung, Capilano University chancellor, welcomes guests to the 2020 Chancellor's Circle Dinner. Photo by Neptune Terminals.
Capilano University hosted their 2020 Chancellor's Circle dinner on January 16, 2020 at The Wallace in North Vancouver, BC.
The event was an opportunity to celebrate donors, like the CPA Education Foundation (CPAEF), for their longstanding support. The CPAEF is proud to be part of the Chancellor's Circle and has been a supporter of student scholarships at Capilano University (and its predecessor institution) for the past 28 years since 1992.
Currently, the CPAEF offers two $1,000 awards each year and created a new award in 2019. These awards are:
CPAEF Academic Excellence Award ($1,000) which was awarded to Emma Giesbrecht in 2019;
CPAEF Marion Easton Memorial Scholarship ($1,000) which was awarded to Jenica Coombs in 2019; and
CPABC North Shore/Sunshine Coast Chapter ($1,000) which was created in 2019 to support a 3rd or 4th year student in the Bachelor of Business Administration (BBA) program who has the desire to enter the CPA program. The chapter's initial donation was matched by the CPAEF which resulted in a multi year award funded through 2022/23. The first recipient of this award will be in 2020.
Faranak Leilaby CPA CGA, a member of the CPABC North Shore/Sunshine Coast Chapter board, along with Ivan Chenkov CPA CGA, former chapter board chair, attended the dinner. Said Leilaby, "the chapter is delighted to be able to support local students and we wish all the award recipients success in their future careers."