Submit a Member Recognition Nomination by Sept 20 News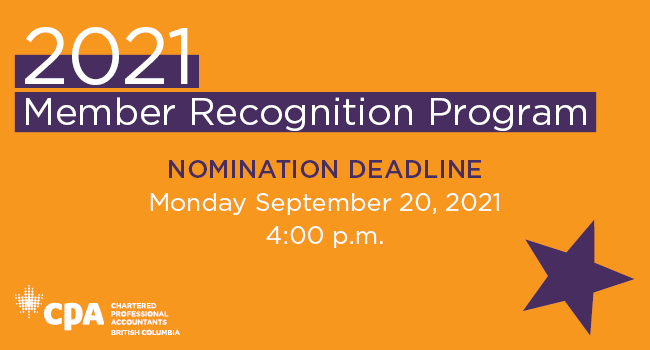 Photo credit: CPABC
Don't miss your opportunity to celebrate a deserving peer by nominating them for a CPABC Member Recognition Award. Nominations are due by 4 pm on September 20 and can be made in the following categories:
Early Achievement: Recognizes members who distinguish themselves early in their CPA career through professional achievement and volunteer service, with an emphasis on professional accomplishment.

Distinguished Service: Recognizes members who have demonstrated dedicated, committed, and outstanding service, either to the CPA profession or a social cause or one or more not-for-profit charitable organizations.

Fellowship: Recognizes those members who have demonstrated leadership in rendering exceptional services to the profession, whose achievements in their careers and/or whose contributions in the community have earned them distinction and brought honour to the profession.

Lifetime Achievement: Recognizes the extraordinary leadership, dedication, and contributions of members who have received their Fellowship and continue to make significant achievements in a broad range of areas.
---