Community Event: Virtual Breakfast with the Bank Community
Event Date: May 14, 2021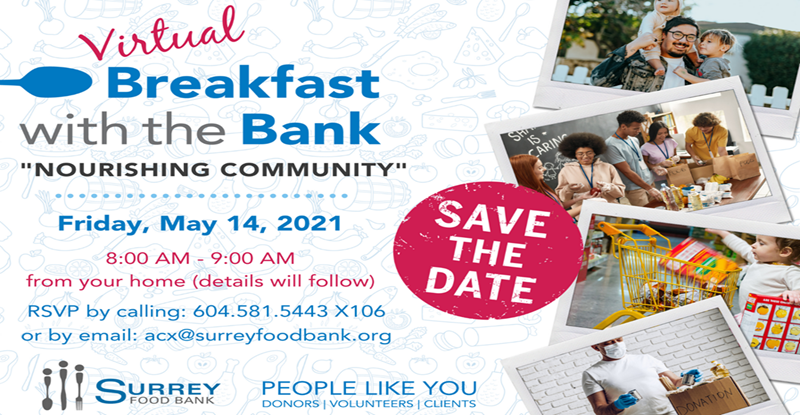 Photo credit: Surrey Food Bank. Please note to be registered under the CPABC Surrey/LND Chapter, do not RSVP to the contact details above but with the registration link below under details.
Join us on Friday, May 14th, for our Surrey Food Bank fundraising event. This is a charitable event that draws interest from local businesses and professionals who want to support cause-related events, as well as make new connections. This will be a virtual event held through zoom, so you can enjoy breakfast at the comfort of your home. We encourage you to join and listen to presentations on how the Surrey Food Bank makes a difference to so many lives in our community.
The event will be streamed at 8:00 AM sharp on Friday, May 14th. The link will be emailed to everyone individually on Thursday, May 13th. If you would like to donate but unable to attend the event, please still register to receive the link to the Breakfast with the Bank (BWTB) donation page.
Note: This will be the only time that Surrey Food Bank will use your email address. It will not be used for any other purpose.
Find out more about the Surrey Food Bank.

The Surrey Food Bank is an essential service in our community since 1983. The organization provides food assistance to 14,000 low-income residents of Surrey, Cloverdale and North Delta. Over $30,000 worth of product is distributed every single day; the Surrey Food Bank provides food to over 200 families on a daily basis.

Details:
Date: Friday, May 14, 2021
Time: 8 AM - 9 AM
Zoom link will be sent prior to the event date
Deadline to register: Monday, April 26, 2021.
Register to attend this Free event here.
---