CPABC Hockey Night ! Vancouver Canucks vs. St. Louis Blues Social
Event Date: Jan 27, 2020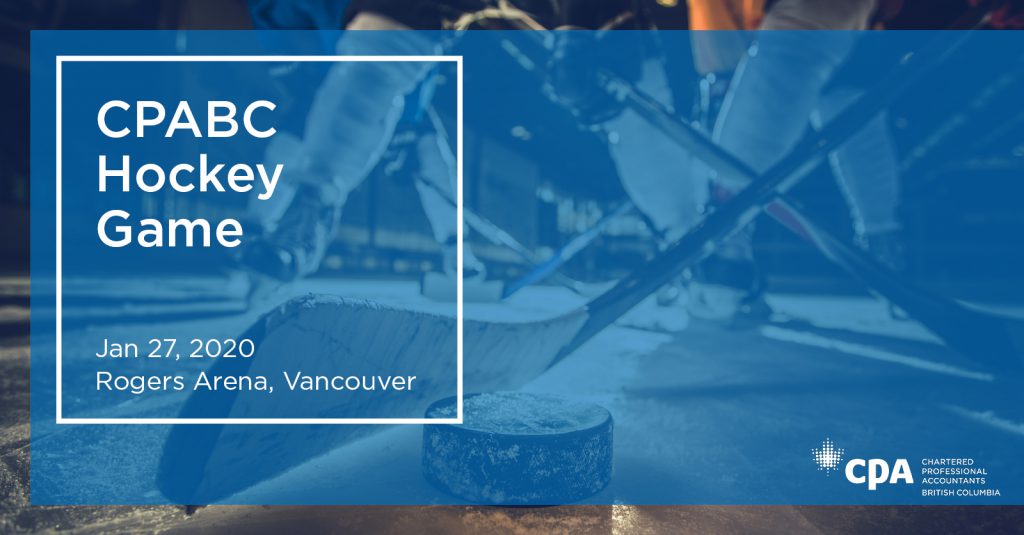 Photo credit:
CPABC and NorthShore/Sunshine Coast Chapter are co-hosting the fourth annual CPABC Hockey Night! Join us as the Vancouver Canucks take on the St. Louis Blues on Monday, January 27th , 2020 at Rogers Arena.
This regional event is a great opportunity to network with fellow CPAs, students and candidates over some appies and drinks at The Sportsbar LIVE! At Rogers Arena for the pre-game reception. Tickets will be lower bowl seats and the ticket distribution will be communicated early January. This event is open to all CPABC members, students, candidates, and their guests. Non-members are also welcome. This is a family friendly event.
Read the recap from last year's CPABC Hockey Night event.
We are looking forward to seeing you at this event!
Go Canucks!
Date:
Monday, January 27, 2020
Where:
Pre Game Reception: The Sportsbar LIVE! At Rogers Arena, 99 West Georgia Street
Game: Rogers Arena, 800 Griffiths Way, Vancouver, BC
Time:
Pre-game networking reception: 5:30 pm – 6:45 pm (appetizers & drink ticket provided)
Game starts at 7:00 pm
Cost:
$99 + GST (includes appies, drink ticket & game)
Seats:
Lower Bowl Seats
*Please indicate the names of the people that you would like to sit next to in the special requirements box on the registration form.
---