Share your favourite recipe! Social
Event Date: Jul 21, 2020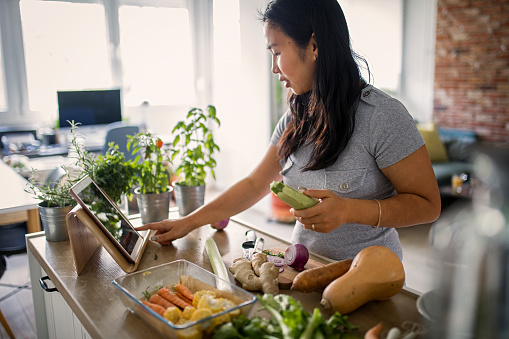 Photo credit: M_A_Y_A/ iStock/ Getty Images
Share your favourite recipe with us! During these unprecedented times, many of us have had the opportunity to be creative in the kitchen or perfect an old family favourite recipe.
Show us what's cooking or baking in your home! Whether it be a savory BBQ sauce, a traditional home-made salad with your personal twist, or even your grandma's secret ingredient to make that recipe just a little extra tasty.
We invite you to participate in this fun virtual activity while possibly finding a new summer favourite from your fellow CPA Chapter members, students and candidates.
Email BurnabyNW@cpabcchapter.ca and share with us your recipes!
*Note: By submitting the photo, you acknowledge that you are the owner of the photo and that you are consenting to the use of the photo on the Chapter blog.
Check out the submitted recipes below.
Spicy Summer Sausage – David Chiang CPA CA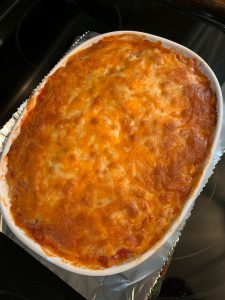 A simple recipe for those who love cheese and sausages.Photo by David Chiang.
1 lb sausages
2 1/2 cups canned tomato
1/2 cup uncooked rice
1 chopped onion
2 cups cheese
1 garlic clove
Salt and pepper to taste and a few dabs of butter
Cook rice, brown sausages, place in dish, sauté garlic and onions in the sausage drippings, add salt and pepper to taste. Add the mixture with canned tomato to the rice. Cover the sausage with rice and cheese with some butter on top. Bake in the oven at 350F for 40 minutes or until top is golden brown. Then enjoy!
Korean Vegetable & Seafood Pancake – Helen Han CPA, CGA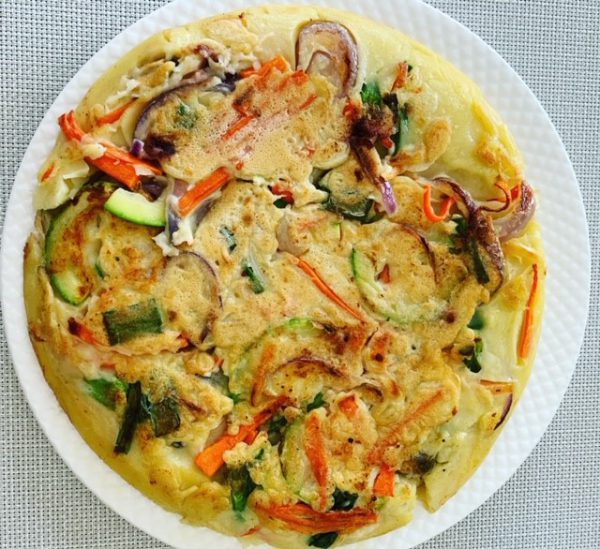 1 cup ice water
1 large egg
2 tbs of oil
2 – 3 cups of finely chopped or grated mixed vegetables (carrots, zucchini, bell peppers, kale or whatever you have in your kitchen)
salt to taste – mix all together
In a large nonstick skillet over medium heat, heat 2 tablespoons of oil. Scoop 1/4 cup of the batter into the skillet or as many as will fit in your skillet while not touching. Flatten the batter with a spatula and fry until the bottom becomes a dark golden colour, about 2 to 3 minutes. Flip and continue to fry until the other side is browned, 2 to 3 minutes. Transfer to a paper towel-lined plate and sprinkle with a little more salt. Continue with remaining batter.
Enjoy!
Fettuccine with Prawns, Lemon & Arugula – Tierra Pawluk
serves 4
500 g dried fettuccine or spaghetti
4 garlic cloves (peeled and chopped finely)
3 tablespoons extra virgin olive oil
2 – 3 dried red chillies ( depends on your level of spice tolerance)
400 g peeled raw prawns
5 ounces of white wine
6 sun-dried tomatoes (chopped finely)
1 lemon (zest and juice)
2 handfuls of arugula
fresh Parmesan (optional)
Cook your pasta in a large pot of salted boiling water. Heat approx. 3 tablespoons of oil in a large frying pan, then add the garlic and chillies. Once the garlic browns, add the prawns and sauté them for a minute. Add the white wine and sun-dried tomatoes, and simmer for a couple of minutes.
Grate the zest of the lemon. When the pasta is ready, drain it in a colander, reserving a little of the cooking water. Toss the pasta with the sauce, squeeze in the lemon juice, add half of the arugula, adding a little of the reserved cooking water. Salt and pepper to taste.
Dish out 4 plates and garnish with the grated lemon zest, the remainder of the arugula and drizzle with more olive oil and fresh Parmesan.
Buon appetito!
Cold Udon for Summer - Yina Wu CPA, CGA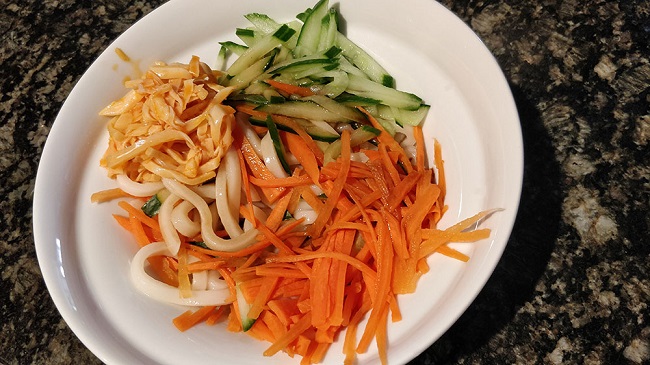 Boil one pack of udon and cool it down with iced water
Julienne your preferred amount of carrots and cucumber
Optional to add bamboo shoots, boiled egg, and/or cooked shrimp
Add some sauce (mixing soy sauce, white vinegar, lime juice, and sugar)
Mix and enjoy!
LASAGNA – Joanne Liu CPA, CGA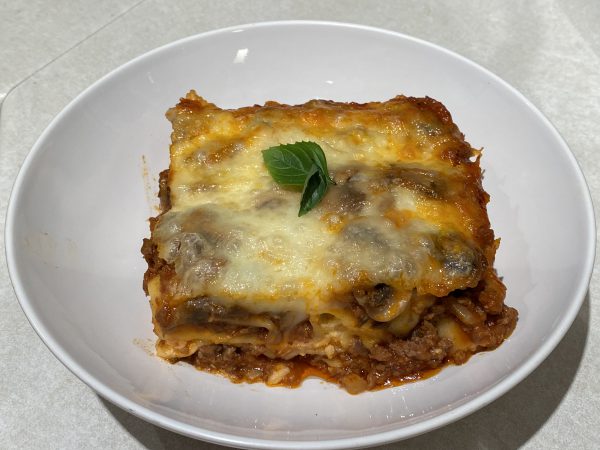 photo by Joanne Liu
A family potluck crowd pleaser!
Ingredients
2 lbs lean ground beef
2/3 cup Parmesan cheese
1 small can tomato paste
3 eggs
1 can tomato soup
2 cups cottage cheese
2 teaspoons dried ground oregano
8 pieces oven-ready (express) lasagna noodles
1 large onion chopped
2 cups shredded mozzarella cheese
2 cups fresh mushrooms, browned
¼ cup water (optional); can add an extra can of tomato soup if mixture doesn't seem to have enough soup in it*
Directions
Pre-heat the oven at 350 F. Slice and brown mushrooms. In a medium size pot, brown the ground beef and onion. Add tomato paste, tomato soup, water*, and oregano. Simmer for about 20 minutes. Spray a 9"x 13" lasagna pan with PAM. Spread ½ the meat mixture into pan. Layer lasagna noodles on top.
MIX: cottage cheese, parmesan cheese, and eggs. Layer over the lasagna noodles. Add another layer of noodles. Spread the rest of the meat mixture over all. Sprinkle browned mushrooms on the meat mixture then sprinkle the grated mozzarella over the top of the lasagna.
Bake at 350 F for approximately 45 minutes, until bubbly and nicely golden brown.
Enjoy!
15 minutes Stir-fry Pork with Basil & Chili (Pad Kra Pao) - Nancy Feng CPA, CGA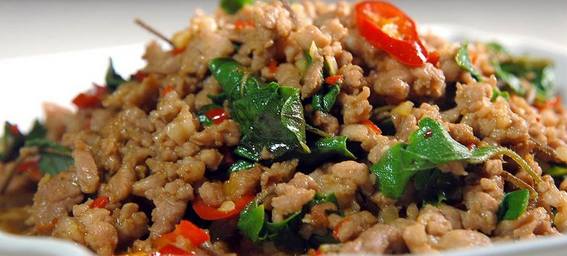 Photo by: Nancy Feng
Ingredients
1 lb ground pork
10 cloves of garlic
6 red bird chili peppers (you can add more if you can handle the heat )
2 tablespoons light soy sauce
1 tablespoon fish sauce
1 teaspoon brown sugar
1 teaspoon oyster sauce
½ cup Thai basil leaves
Instructions
De-seed chili pepper and thinly slice.
Mince garlic and mix it with chili peppers.
Add vegetable oil and stir-fry garlic and chili peppers for 2 minutes.
Add ground pork and break it up into small pieces. Continue to stir-fry for 5 minutes until ground pork becomes crispy.
Mix soy sauce, fish sauce, oyster sauce, and brown sugar with 1/2 cup of water.
Add the sauce mixture into crispy pork. Stir-fry for another 2 minutes. Turn up to high heat until the excess liquid is evaporated. Add Thai basil leaves and stir-fry for another 1 minute.
Serve over rice or rice vermicelli.
---