Derek Johnson, CPA, CMA
Senior Strategy Manager, TELUS
Note: This profile was originally published in the March/April 2015 issue of CPABC in Focus magazine. At the time of writing, Derek Johnson was the Senior Performance Analyst at TELUS and CPABC Vancouver Chapter Chair.
Profile by Michelle McRae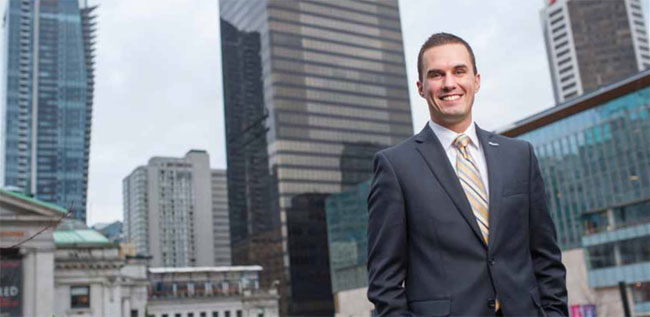 Photo by Kent Kallberg Studios
For busy professionals who can't imagine finding the time to attend a CPABC chapter event—never mind getting involved as volunteers—the benefits of chapter involvement may seem a bit intangible. In Derek Johnson's experience, however, the benefits have been immeasurable.
"I can't put a price on the friendships I've made, the steps I've taken in my career—which are directly correlated to the skills and experiences I acquired through volunteering—or the feeling of pride I get from seeing the chapter succeed," he says.
Derek first got involved with the Vancouver Chapter of CMABC in December 2010, just two months after earning his CMA designation, serving as the head volunteer for online communities.
"The primary reason I started volunteering was because I enjoyed my time in the CMA program and at chapter events so much that I wanted to help others have that same experience," he says. "To be honest—I didn't know I'd be taking on so many responsibilities! Thankfully, I was able to pick the brains of the more tenured members and hit the ground running."
Rather than taking a step back, Derek soon ramped up his involvement, becoming a director and then vice-chair in short order.
"I thrive on new experiences and wanted to push myself out of my comfort zone," he says. "When I was asked to be vice-chair in 2012, I hadn't yet experienced that type of leadership role in my career, so it was a great opportunity to learn new skills."
During his tenure as vice-chair, Derek left his position as a financial planner with The Art Institute of Vancouver to join TELUS as a performance analyst. Juggling volunteer responsibilities with the demands of his career required him to hone his time-management skills.
"I've become very proficient in the use of Outlook!" he says, with a laugh. "Being able to prioritize chapter tasks and set expectations with the team in advance allows everything to function efficiently."
Derek became chair of CMABC's Vancouver chapter in March 2014, and held the role until September, when he was selected as chair of the newly formed CPABC Vancouver chapter. The transition has been an exciting one.
"The opportunity to lend my experience to help shape the identity of the new chapter and really be a part of history was one I couldn't pass up," he says. "There have been some challenges along the way, but for the most part the transition has been amazing. I'm fortunate to be one part of a highly collaborative group that was assembled to transition various legacy chapters into a new CPABC Vancouver Chapter. The brilliant part of shaping a new culture, with the help of members from all legacy designations, is that you become a hybrid of the best qualities of each."
Attendance, he notes, is on the upswing.
"I'm seeing more people becoming involved as volunteers, and more getting involved at events," he says. "I can normally recognize about 50% of the members who attend events, but at our last breakfast networking event I probably couldn't even recognize 10%! That's a good sign, and it's a trend we hope continues."
Since Derek was promoted to senior performance analyst at TELUS in December, his work responsibilities have only increased. But he has no plans to stop volunteering.
"Being involved with both chapters has given me the opportunity to work with many talented people who have taught me a great deal," he says. "It has helped me immensely in my career, as well as in my personal life—100%."
Updated October 10, 2017